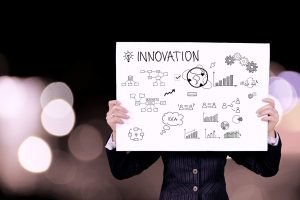 When mobile apps first starting appearing on our cellphones, there were typically small, fun uses. Changing the ring-tone on your phone or having an arcade game right in your pocket were the quintessential ceiling of mobile app development. In those days, developing and teaching how to use computer software was much easier for companies. With only a small percentage of people having access to phones capable of running mobile apps, most businesses weren't even thinking about how those applications could be used to improve their workflow. It was more of a novelty than a necessity.
Somewhere around the time the first iPhone came out though, mobile apps were beginning to pick up steam. As phones became smarter, programs for those phones became more intuitive. Bigger companies started to utilize mobile apps for their ease of use and availability – especially to those people in the technology industry that were hasty to purchase the latest and greatest from Apple.
The phrase "Rapid Mobile App Development", or RMAD, has been getting a lot of traction lately in the tech industry. To put it simple, rapid mobile app development refers to the process used to create a mobile app when using an online platform, like Snappii. Using Snappii's intuitive editor, for example, you can drag and drop select features found in most mobile apps, and have a fully functional app ready in a fraction of the time it takes to code it from scratch. This gives way to many possibilities, including adapting a mobile app that works specifically to create shortcuts in your workflow. Snappii offers a custom app service, but if you want to try your hand at creating your own mobile app there's a 14-day-trial available for FREE by clicking here.
The RMAD Requirements
RMAD platforms are contingent on two requirements (in my eyes) if they want to be accepted in the technology industry. The first is being able to provide a solution faster than if you were to code it developers.
The average development time for app-makers is around 6 months, and the cost is usually somewhere in the 6-digits. Within those 6 months, there may be challenges and hurdles you'll have to overcome in order to create the perfect app relevant to your business. While one can oversee the process, there's no guarantee that the app that developers make will line up with the original desires. Not to mention, in 6 months' time there's a good chance that the industry may shift in a new direction, creating even more requirements for the already costly mobile app.
The other requirement is that the RMAD takes you from zero to completed application before leaving the platform. The bulk of RMAD systems will take you all the way to the finished app. For many businesses that are going to use the mobile app internally, this may just be enough. However, if the intention is to make an app for the public sector, then publishing the app on the app stores is also a requirement. Few RMAD platforms do this, and Snappii is one of them.
The beauty of most RMAD solutions is that they're based largely on existing products. This means if you've gone to the app store and have seen features in different apps that you would like to combine, it's very likely that a RMAD platform has the tools necessary to make that happen. From start to finish, RMAD platforms can take your app from choosing features, to editing the colors to match your business in a matter of minutes, rather than the months it would take to create a similar app from scratch. There's also a lot less money involved since RMAD tools do not require the help of an actual programmer or technician.
Why go RMAD?
With the advent of RMAD tools, building a mobile app has become more of a pleasure than a chore. With Snappii's platform, it's now easier than ever to create a mobile app for your business, and add it to the arsenal of technology that will help you get the job done right.
One thing that most RMAD services do not offer are templates. Snappii's Templates are pre-made mobile apps that contain the key features needed for their respective industries. Templates can be fully modified to fit your business, down to the colors and fonts of the text. They are readily available to be tested in both of the major app stores, but if you want to see a list, click here to check out Snappii's Templates.
For the more ambitious DIY app makers out there who want to try building the mobile app from the ground up, Snappii invites you try their industry-leading app editor absolutely FREE for 14 days. Try it today, and see why Snappii is quickly climbing to the top of the RMAD charts!