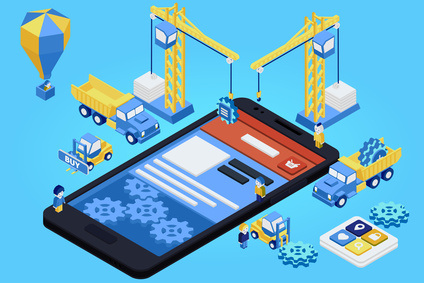 Technology in the construction industry is diverse.
On one hand you have the safety side. Most gadgets you'll discover in the construction industry are usually a means of protecting their employees. Things like the halo light, a 360 degree lit helmet that can warn a driver of a construction worker from up to 50 feet away, and the smart helmet, which can measure heat just by looking at things, are examples of the awesome power of technology. If you want to read more about them, check out our blog here.
For the functional side of construction, software plays a major role. Snappii, a leading mobile app developer, has committed themselves to providing a catalog of construction apps that will fit any niche within the industry.  Using the DIY platform on the website, it's easy to mix-and-match the features you would like to see in your app with little to no coding knowledge. You can try some of the mobile app templates in Google Play or iTunes Market right now, or jump straight into the editor and try your hand at piecing together a mobile app. Either option is completely free for 14-days, so try it out today!
Traditionally, blueprint editing was only accessible while on a computer, and it was a pain to get it on a mobile device. Because of the lack of cloud services back then, it was also difficult to collaborate with your team. Markups would only be done individually, and seeing a coworkers notes would mean that you would need to use their mobile device.
Nowadays, things are a bit different. With the innovation of mobile apps, everything has become easier.
Sharing is productive
Any big project requires a team of people to complete it. There's only so much a one-man show can accomplish. While Snappii does have mobile apps for even the self-made contractor, bigger jobs require better software.
Communication is always an issue on the field. With loud machines and people trying to scream over them, there's a good chance that even if the worker did hear someone, they probably wouldn't understand them. So let's keep things visual – imagine if you're whole team had access to the same blueprint, complete with the foreman's/engineer's annotations and changes, right in their pocket. Mobile apps give flexibility to the way you see your data, and it allows you to change it on the spot. Combined with a tablet and a stylus, annotating directly on the blueprint will feel almost identical to pencil and paper.
PDF Editor built-in
It's no secret that a lot of PDF-editors are on both mobile app stores. Even a quick search of just "PDF" yields many results at varying price ranges – anywhere from $1.99 to over $10.00!
Many of these PDF editors, and viewers, all stop their functionality where their names end. This can be problematic. When you're on the field, the last thing you want is your coworkers fumbling around their phone, wasting time trying to find out how all the apps that they've downloaded relate with one another. Since it's difficult to find a cost-effective, all-in-one solution in a market saturated with so many different applications, it's would seem almost counter-productive to even consider a mobile app.
Snappii gives the advantage of putting together features like building blocks. With Snappii  online mobile app editor, it's just a matter of placing the features that you would like to see in your app on a list. The programmers at Snappii have already done the back-end part for you, all you have to do is pick and choose. Want to have a PDF Editor with a Blueprint manager? No problem. Want to add chat to that too? We thought you'd never ask!
Goodbye Paper
I've talked about the benefits in ditching paper over a mobile app, and the same could be said about the construction industry. Paper can get damaged, or even worst, lost. On a work-site, the same diagram could pass through many people's hands before it gets to where it needs to be, especially with foremen constantly coming back to look at it. And when these blueprints are finished, they get put away in a cabinet where they'll be forgotten.
Keeping everything digital gives the user the advantage of never losing another blueprint, and never having to worry about it getting damaged while on the work-site. You can set the blueprints to be cloud-based, so that everyone on-site has the same information in the palm of their hands. There's no need to pass anything around – the team can just look at their smartphone.
You still might be thinking that it's difficult to create your own mobile app for your business. With Snappii's platform, however, it's now easier than ever to create the mobile app of your dreams and add it to your arsenal of technology that will help you get the job done. If it still seems out of your league, check out Snappii's templates, which will give you a foundation to build your mobile app on. If you want to try out our no-coding DIY mobile app platform, we'll start you off with a 14-day FREE trial. Try it out today!