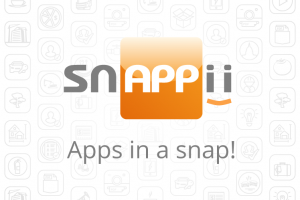 Isn't it great to realize that your app idea can change the world? That you will finally create something important that everybody will love and use! Being in the high spirits doesn't last long as you suddenly hit the ground: how should I actually make a mobile app??
You start googling the options: hire a lone consultant, submit your request to a development firm, build it with a DIY platform. Let's consider each option.
Find a Development Company
These are the companies that have budgets to place their ads, so you'll come across their profiles anyway. Usually, you submit your app request on their site and patiently await their response. You will be communicating with a project manager to verify the details, with a sales person to set up pricing questions. There's a whole process hidden from the moment you submit your request to the moment the app is released: development, design, testing, bugs fixing – all performed by different people. Hence, you ought to pay more! If you have extra $5k to pay just to discuss the project – go ahead, or pass along to the next option – hire a lone consultant.
Hire a Mobile App developer
Mobile app developers are actually those who do the entire job: the coding. There are thousands of mobile app developers out there; you can find them on job sites, forums, social channels, etc. I guess, the best part here is that you only communicate with one person. The whole process gets simplified as you will be explaining your idea directly to the developer, but you will be finding a hard time discussing the details with the mobile app developer, because you are not one! The development cost might be lower in case you hire a developer vs. development company, but there are some drawbacks you might also face: developer can quit the contract and you'll have to find a new one who would agree to continue writing the code. Maintenance is a very important aspect of  mobile app creation and support. Let us say, you need to track app purchases, registered users, collect data on the app users and send them notifications – that's done via servers and databases. Would your developer ensure the usage of such to meet your needs? We have approached the last but not least option to build your mobile app – using a platform.
Mobile App development Platform
That's where you can really get what you want: you are the designer, the developer, the project manager! You have total control over the look and feel of your app. You don't have to be an expert in  coding or anything about mobile app development to create an app you have in mind. DIY mobile app development platforms allow creating mobile business apps from scratch or using a template. Here's where you have to be careful with your choice of such a platform! Most of them offer a template based approach where all your ideas are restricted to colors edition and moving buttons from one place to another. That's not exactly what you were looking for.
A good platform covers the following:
–          Quickly design and prototype multi – channel native mobile business apps
–          Visually create enterprise grade mobile business apps in 8 weeks or less
–          Requires no programming skills.
–          Is extensible with JavaScript if needed so there is no platform dead-end
–          Create robust mobile business apps that integrate into existing enterprise systems
–          Provides services  like security & encryption, local database and other services
–          Manage app and content
–          Is more affordable than custom development and takes less time
–          Produces mobile business apps that are not hard-coded and are fast and easy to update and distribute
–          You control app creation and ongoing management of your app.
To start with, you can try Snappii mobile app making platform.
Snappii, a cloud based platform for rapid mobile app creation enables business people to design, develop, and deploy enterprise grade feature-rich and secure business mobile business apps in weeks versus months. Using Snappii's flexible Cloud Visualization Editor, stakeholders can design and build feature-rich enterprise grade mobile mobile business apps once and deploy across all major mobile platforms including iOS, Android, and HTML5. In addition, since the platform does not require extensive mobile developer skills to get started, programmers and non-programmers alike can deliver robust native mobile business apps quickly and easily, saving time and money. The Snappii platform also provides easy to use application management and integration services. Since 2010 Snappii has delivered significant platform improvements to address the growing complexities of mobile app creation and deployment. The company is committed to continue improvement in functionality for building enterprise grade mobile mobile business apps. All are welcome to try Snappii at no cost http://www.Snappii.com.