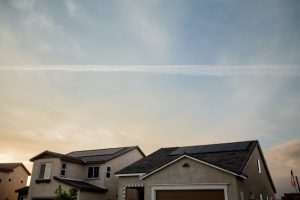 A roof inspection is one of the most important parts of home inspection. Inspectors need the right tools in order to get their job done quickly, safely, and efficiently. Here are the main ones.
Ladder
The first thing you need for roof inspection is a ladder. Ladder safety is a priority since most accidents involve them. The ladder must provide enough grip so that inspectors don't worry about balancing while climbing. Placing the ladder it is important to make sure there are at least two rungs above the gutter. It's always a good idea to strap the ladder to the gutter with a safety strap. The load capacity of the ladder must be up to 300 lbs (136 kg). And of course, it must satisfy all OSHA and ANSI standards.
Roofing shoes
While climbing on the roof, inspectors must wear special roofing shoes. Such shoes must provide the required stability to not slip off and fall. The highlights to look out for are:
– thick and slip-resistant outsole,
– lightweight,
– shock-absorption,
– strong and solid outer material,
– good ankle support.
Hiking shoes can be a good choice for roof inspections.
Inspection software
The main purpose of roof inspections is to collect data for further decisions based on it. This way, inspectors need a tool to work with such data. The best way is the usage of special roof inspection apps. Inspectors don't need to make any notes, they can easily and quickly fill in a pre-made mobile form with necessary fields. All data can be conveniently stored on any mobile device and it is always at hand.
Roof Inspection app from Snappii
Snappii offers the Roof Inspection app, designed for roofing industry professionals and any layman. The app allows users to collect all required details and instantly add them to the pre-made consolidated mobile form. Also, users can take and upload pictures, make notes, and add a digital signature. The completed form can be converted to the report. The report can be saved and shared as a PDF file. Watch this video to see the Roof Inspection app in action. The app is available in Apple App Store and Google Play. If you are not fully satisfied with the ready-made version of the app, the Snappii team is ready to convert it for you. For example, we can add your own forms to this app. Contact us here to discuss any app customization.