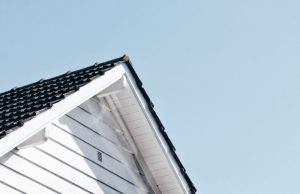 Summer or winter months are usually the time of increased energy costs. The reason is more intensive use of heating and cooling systems. There are some ways to reduce energy costs in home, and energy-efficient roofing is one of them.
Adequate roof insulation
One of the ways to make a roof more energy efficient is ensuring adequate insulation. Poorly insulated attics can't fully withstand high temperatures and force homeowners to increase energy costs. However, while improving insulation, it is important to know the optimal amount and type of insulating material that should be used.
Roof coating
Another method for increasing a roof's energy efficiency is to add specific coating or material to the roof. Dark colors retain more heat. In its turn, there is a coating to reduce heat retention, for example special cool-roofing paint. In addition to energy efficiency, this solution contributes to increasing UV and waterproofing protection for the roof.
Energy efficient roofing materials
The following solution is suitable while roof replacement or construction of a new roof. There are special energy efficient roofing materials, which should be thought in advance. For example, metal roofing provides significant savings in energy, than shingle.
The process to start with
Considering all the variety of opportunities to increase energy efficient of roof and reduce energy costs, and keeping in mind various specific aspects of each house, homeowners should conduct roof inspection before deciding on the best strategy. The best way to make such inspection accurate, efficient, as well as fast and quite simple, is using special mobile app.
Roof Inspection app from Snappii
Snappii offers smart and multifunctional Roof Inspection app. This app is specifically designed to perform multiple types of roof inspections by using a mobile device. Roof Inspection app covers the following types of roof: asphalt shingles, clay tiles, slate, metal, wood shingles and shakes, built-up/membrane/green roof. The app users are able to collect roof inspection details in minutes right in the field, take pictures, make notes, add digital signature, generate reports and send them. This video demonstrates how Roof Inspection app works. The app is available to download in Apple App Store and Google Play. Snappii team is ready to discuss the customization of Roof Inspection app. If you have any specific requirements and you want us to implement them in the app, please send them to us.
The importance of regular roof inspections
Keep in mind, that any roof requires regular inspections regardless of the immediate problem or intention to remodel something in the roof. By making sure the roof is in good condition, you can prevent different hassles and keep safety of inhabitants.