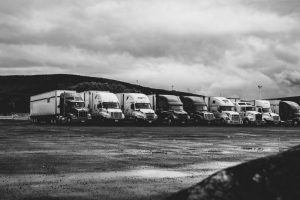 Fleet management is an essential process for companies, which deal with vehicles. The proper management enables companies to improve efficiency, reduce costs, and ensure compliance of the entire fleet.
Unfortunately, sometimes fleet management can be a challenge. It is extremely difficult to keep everything under control and work with large amount of various data, considering that the main work object is located outside the office.
The help is already here
Nowadays more and more businesses take steps to become more efficient and organized by embracing fleet management technologies, such as fleet management apps. Such apps can provide different types of functionality and cover vehicle maintenance, control of inspections, workforce management, shipment management and more. The main purpose of fleet management apps is to control the entire lifecycle of vehicles alongside reducing associated risk, improving efficiency, increasing productivity and ensuring compliance with legislation.
The best fleet management app to instantly improve the work
Snappii offers multifunctional apps for companies working with vehicles. Now we want to present our Fleet Management app. Fleet Management app is designed for both drivers and managers to improve a workflow and simplify tracking working hours, vehicles and tasks. This app can become an indispensable tool for any specialist. Managers are able to create a database of drivers and vehicles and assign different tasks. Also they can track task fulfilment. Drivers can check tasks, communicate with managers, complete tasks and notify managers. Fleet Management app provides lots of benefits including:
– data accuracy,
– acceleration of operations,
– management simplification and improvement,
– reduce of expenses,
– workflow optimization,
– etc.
Download and try Fleet Management app.
In addition, Snappii offers an app customization solution. Most of Snappii apps can be modified to better meet your specific needs. We can make some changes in Fleet Management app. Just contact us.