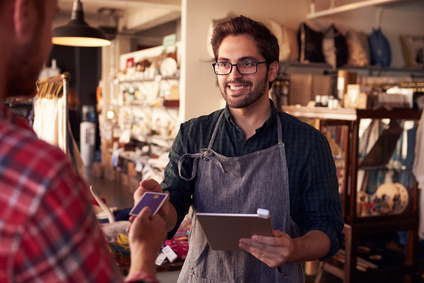 Mobile apps launched a wave of new ways to do the same job. By digitizing every bit of information right at the source, companies are able to exponentially increase their production, and reduce the amount of time, with the same tool. A tool that, not to long ago, was only afforded by the top, nation-wide businesses, is now available to anyone.
Snappii, a leader in rapid mobile app development, has produced a platform that is capable of creating a mobile form with zero coding experience. It doesn't matter if you're a developer or a carpenter, the Snappii platform is as easy as using a website. Utilize the features that you would like to see in your app as building blocks to create a mobile form that will boost your productivity. Try the online editor out and see for yourself!
Even with the advent of mobile apps, the real magic lies in the mobile forms. Making your paper form into a mobile form can help in a multitude of ways. Here's how:
Paper
There's nothing more discouraging then walking into your office and not being able to see your desk because of the mounting paperwork. You'll sit there, pen in hand, working tirelessly to meet deadlines, and at the end of it all it goes straight into a filing cabinet. More likely than not, you'll never have to open those filings cabinets looking for those documents – unless you're throwing them away to make room.
Although not as common anymore, there are still many businesses that use little software on their day to day. Whether this is because of cost or just a lack of knowledge, paper seems to mount up in all corners of the office, making it impossible to seem like you have a grip on things.
There's another important note – paper is perishable. It's expensive. Worst of all, it takes up a lot of space for something that actually isn't that useful after it's first use.
Forms can flip this notion on it's head, though. When a form is on a mobile device, it eliminates the need for excessive documents, while still keeping what you like most about paper. You can also add additional perks to your form, like the ability to send a picture or a voice note. That's just scratching the surface too – there's a plethora of features on the Snappii platform that you can customize your app with.
Paper-trail
Filing cabinets are a thing of the past. While it's inevitable that certain jobs must keep every document, the necessity for keeping a physical copy of the document continues to diminish. Seriously, if you're office is beginning to look overcrowded because every wall is lined with a filing cabinet housing documents that are years old, it's time for an upgrade.
And I don't mean bigger cabinets.
There's an inherit advantage to keeping everything digital – everything is automatically documented. With Snappii, sending a document via a mobile app will prompt you to save the work you just completed. On top of emailing it to whoever it has to go to, the option to email yourself a copy is always there. With the click of a button, you can have your form sent wherever it needs to be, and to a cloud service as well.
Plus you can laugh at the fact that the best paper-trail actually doesn't involve paper at all.
Time
There's two ways Snappii's mobile forms can help you save time.
The first is on the field. Imagine this: no clipboards. As long as your employees have a smart device, which can be a tablet or smartphone, they will have access to all of their forms, checklists and logs right at the press of a button. It also gives your team an extra way to communicate to each other. If a change is made on one end of the construction, then the group on the other side will know immediately. It cuts out the time it takes to relay messages to your team completely.
The other way it's going to save you time is in the office. All of those stacks of paper can be reduced, or completely eliminated, when you employ the help of a mobile form to your workflow. Because it's digital, it'll be easier to find the documents you need, when you need them. Think about it as if you were looking for a file on your computer. Just type what you need and you're there.
Your secretaries in the office will be the next to thank you for the time saved. All of those papers that are flooding every square inch of the floor can be completely eliminated when you digitize all the data that is being recorded. Workers from the field can send their updates directly to the office personnel instantly. If they ever need a document, it's as easy as typing a name and date into the search filter – no more looking through papers for hours.
And of course, let's not forget that you can take your work with you. That means you'll have access to your documents regardless if you're in the office or not. All you need is your smartphone.
Impress your clients
You've probably seen it when you go to the Apple store. Employees walking around with their iPhone's and iPad's with no registers in sight. If you want to purchase something, they start punching away at their phone, and in a few minutes they have a printed invoice and your new product in hand.
There's a reason Apple adopted this style of check-out – because it impresses!
Apple doesn't have to be the only company with a remote check-out system. There's many other ways the same technology can be applied to jobs and services. For example, if you're a mechanic that drives to your clients houses to service their cars, you'll be able to have a printed invoice before your car even pulls out of the driveway.
Customers that see this might think you have an edge on the competition, or that you paid a lot of money to hire a programmer to create your own custom mobile app. In reality, this functionality can easily be achieved with just Snappii's form editor.
Extra Functionality
So what happens when you want to take your mobile form to the next level?
Because Snappii's platforms are all unified on the back-end, it's easy to evolve the one mobile form your using for your business, into a full fledged app capable of doing a lot more than recording information. Some of these features include:
Geo-fencing
GPS
Location capture
Chat
Forums
Upload a PDF
and much more
To see more of what Snappii can do for you and your business, try out our editor today. With the use of templates, it's easy to find a bare-bone version of the mobile form you're looking to build. Once it's in the editor, you can modify it to fit any need for your business. Remember, there's ZERO coding involved. Click here to start off with a FREE 2-week-trial, or click here if you want a quick-start guide to building your first mobile form.
If you don't want to use the editor, you can also hire one of our developers to make you a custom app at a fraction of the cost of competitors by clicking here.