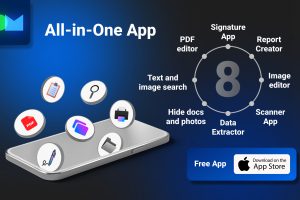 This saves hours of work each week spent on filing, sorting papers and organizing electronic documents, and trying to find documents and photos. 
April 6, NH. Snappii is a leading Mobile Business Apps company that enables organizations to go digital with mobile apps and forms.
Snappii understands the pain of businesses dealing with paperwork, and has created the DocuMate Scanner app to scan documents, sign, share, store and immediately find later. The app also allows editing documents. Today Snappii has announced that the app has been enhanced with additional features making the process of editing files and photos easier.
Here's what's new:
– Working with text is more convenient now. Users can add text, choose colors and fonts, edit and delete easily,
– Improved UI for work with photos and PDFs,
– Now a user can long-tap any space on a PDF or photo to add checkmarks, timestamp or signature,
– Users can choose to place a stamp or sign one page or every page of the document.
"Getting this release done is a major accomplishment", says Alex Bakman, Snappii Founder and CEO. "With the DocuMate Scanner app, people can now edit any document with a tap of a finger. It is so easy to scan a piece of paper, add checkmarks, place any text and share with a click of a button!"
The DocuMate Scanner App has become an all-in-one app. It is a scanner app, PDF and photo editor,  signature app, report creator, data extractor, text and image search, and password protection.
All are welcome to try the DocuMate Scanner app at no cost. The app is available for free download from the Apple Store.
About Snappii:
Snappii is a leading Mobile Apps company for Business Apps. About 500,000 people use Snappii Business Apps in 30+ Industries around the world.
All Apps are powered by the Ultra-Fast, No code Snappii App Platform which enables native App creation and modification 30 times faster than coding by hand and costs a fraction of hiring Mobile App Developers. Learn more at Snappii.com.