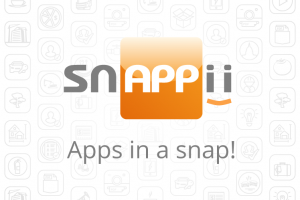 This week, I"ve shared many thoughts on what will lie ahead in 2013 for Enterprise Mobile Apps. On Monday, I shared
nine specific areas of interest
. Thursday, I added
four additional thoughts
looking forward to 2013.  Today, I"d like to share the four key technical directions for
Snappii
in 2013.
1.      Connect and Integrate.  We want to make sure that our customers can connect with and integrate mobile business apps with data coming from internal systems like MS SQL, Sharepoint, Oracle, SAP, etc. as well as web based services like Salesforce, Twitter, LinkedIn, DropBox, and hundreds of other web-based services available on the Internet. We want to make these integrations easy and "out of the box", so that every user, even non programmers can connect their mobile business apps to the data sources.
As I"ve said in my other posts this week, a Mobile App is truly not an enterprise app unless it can integrate with the data critical for your app users, whether customers or staff. Snappii will continue to develop data integration to systems like the ones I"ve mentioned to ensure that your Enterprise Mobile App can bring all the data you need to access to your fingertips, whether on a smart phone, a tablet or another portable device.
2.      Data Management.  We are making it easier to work with data sources by enabling users to select, combine, update and display data in mobile business apps across all mobile platforms.
The ability to access data on a mobile device is only of value if you can utilize the data to perform your work remotely and have those changes reflected throughout the enterprise, so everyone is working with the latest data. Whether new customer orders, notes added to a customer file, or new customer information, immediate access to this information from the field will raise customer response time and customer satisfaction to an all time high.
3.      New Platform Features  We will continue to add new features that further simplify creation of enterprise grade, high quality mobile business apps.
Based on the Snappii Platform"s What You See Is What You Get (WYSIWYG) visual drag and drop editor, we are committed to ensuring that the members of your development team can build your company an Enterprise level Mobile App without the need to know or learn to write code. Whether from IT, Marketing, Sales, Service, and/or Human Resources, the key people within your organization know your needs and those of your customers best and, with Snappii, will have the ability to create the app you need without the budget taxing cost of hiring mobile app developers and attempting to educate them on your business to help them understand the features your app needs to include.
4.      Pre-Built Apps.  We will continue to expand our collection of industry specific pre built mobile business apps that are functionally equivalent to mobile business apps built by industry leaders in every industry.  The pre-built mobile business apps will make it even quicker and simpler for customers to deliver best in class mobile business apps to their customers.
Using the rich industry-specific pre-built mobile business apps available for customers" use in the Snappii Platform, you won'2013-07-15 06:49:57't have to wonder if you"ve thought of everything you and your customers may want in an app. With a pre-built app, you simply replace the information in the template with your own and can have the assurance that the app you"ve created is comparable to other mobile business apps in your industry.
Using templates, you can make enterprise mobile business apps using the templates for  mobile devices using iOS, Android and HTML 5 operating systems. If you need to update information or add new features to your app, it is quick and easy to make those changes in the Snappii Platform for every OS and rapidly distribute them to all of your users.
This is just a glimpse at a few of the many areas the Snappii Development team is working on. You can rest assured that, when you build your Enterprise Mobile App with Snappii, we are working hard on your behalf to ensure your app will meet every OS change, be capable of incorporating the information your app will need for your workforce and your customers, so your business will operate more productively and more cost-effectively.