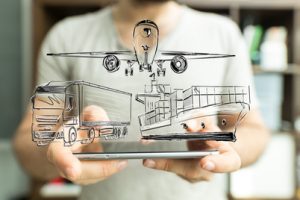 The transportation and logistics industry is going through a powerful transformation due to the modern mobile technologies. With special mobile apps in place, the productivity level is increased and processes become faster and more efficient. Due to the specification of the industry, a significant part of the work is done in the field. Such dynamic type of work requires reliable, feature-rich and agile mobile app. Let's consider what features modern transportation and logistics mobile app should have.
Track and keep everything under control
First of all, good transportation and logistics mobile apps need optimize the cargo delivery processes. Constant organized tracking allow specialists to manage deliveries with absolute accuracy and avoid errors and delays. This real time information on the moment of goods as well as vehicles and drivers is the key aspect to maintain uninterrupted powerful workflow in any company of this industry.
Quickly collect data in the field
Transportation and logistics companies have to gather and analyze huge amounts of data. When it comes to work with data, paper forms is the first thing that comes to mind. For years paperwork accompanied this industry and entailed extra time, errors, inaccuracies, inconvenience, extra costs and more. Thanks to modern transportation and logistics mobile apps, paper forms are transformed into the digital format and now they are conveniently placed into a smartphone. Fast and easy data collection with mobile forms is not all. Mobile apps allow users to instantly process data, analyze it and share. Pre-made mobile forms reduce such valuable work time, efforts and costs.
Conduct various inspections on the go
Inspections is a mandatory process in transportation and logistics sphere. It can be fleet inspections, or warehouse inspections or any other, but all of them must be conducted in time and documented. Transportation and logistics mobile apps are the best tool for quick inspections with just a smartphone. Moreover, all inspection data can be conveniently and safely stored and is available anytime and anywhere. Actually, thanks to one app you can legally protect yourself, your business and employees.
Make complete reports at your smartphone
Reporting is not just a note on the work done, it is a productivity and earning rate. Transportation and logistics mobile apps allow users to generate complete professional reports at their smartphones. The payment process begins with timely reports. This way, good reporting influences the revenue of each employee as well as the revenue of the whole business.
Get ahead using Snappii apps for transportation and logistics
Snappii, a leading mobile business apps company, offers powerful transportation and logistics mobile apps with all these features and even more. Our main advantage is 100% customization of our apps. Any Snappii app can be modified specifically for your needs or our team can create an app from scratch to meet all your requirements. In today's real-time business, any operation needs to be quick and cost-effective. Don't waste your time and money, the best solution for transportation and logistics business is already in your pocket.