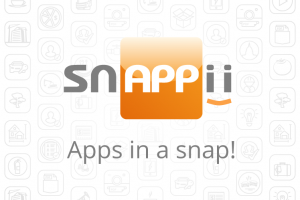 Productivity is an average measure of the efficiency of production. It can be expressed as the ratio of output to inputs used in the production process, i.e. output per unit of input.
Productivity is a crucial factor in production performance of firms and nations. Increasing national productivity can raise living standards because more real income improves people's ability to purchase goods and services, enjoy leisure, improve housing and education and contribute to social and environmental programs. Productivity growth also helps businesses to be more profitable.
Snappii introduces top 9 business mobile business apps for productivity:
–Report Document Capture Information Around Me
This appis designed to collect data anytime and anywhere by using smartphones and tablets.With the help of this app it is easy to create custom PDF reports that contain captured information including date, text, images, GPS locations, signatures, QR and bar codes etc.Each report is stored locally on your own device and can be further shared and modified. This app is an indispensable tool in case you urgently need to capture any valuable data and create a report out of it.
It is designed to quickly and conveniently convert images into PDF reports.With the help of this App you can take photos of any items in the field, receipts, documents and contracts or choose them from your device gallery, highlight valuable information or make notes and email them as PDF files. All the photos you make will be stored locally on your own device or in the cloud and can be further accessed, shared and modified by you at anytime.
Is a pre-built mobile app designed to help consumers evaluate products/services they are using and send their feedback to managers. App users can fill in their own email address to get a copy of the feedback as a PDF file. The digital form works in an offline mode that makes it possible to fill it out and save in the app until Internet connection is re-established.
The Expense Report app will take and upload photos, generate a PDF report, email the report and store all the information in the accumulative database. Take and upload images of checks and bills, add locations of restaurants, shops, stations, specify time of purchases, collect other details and save them on your smartphone or tablet for future reference.You can share captured data and instantly calculate totals based on your entries. This app can become an indispensable tool to be used at work, on business trips and assignments or simply in the everyday life of every person.
The app is designed for contractors, lawyers, consultants and other 'on-the-go' professionals to track and bill time accurately and effectively.Calculating billable hours often helps businesses to save money, make more profit and be more productive. The app allows tracking and billing time to clients and employees as well as easily track your own hours worked and calculate your earnings. There is an option to create fast timesheets, specifying working hours including overtime or brake time (billable and non-billable hours). As soon as the timesheet is completed and earnings are calculated, all the data gets saved on your device and there is a PDF and an Excel file generated. These files can be printed and shared via email, text message, cloud storages (DropBox, Box, Google Drive, One Drive) and other sharing options available on your mobile device.
Easily create your shopping list by adding new items you need to buy, setting their quantity and picking a category. When adding products and creating lists you can add prices, pictures and bar codes to items you need to buy. The app allows creating multiple lists – plan purchases being at home and create lists on the spot being in a store. Being in a store, just open your list and delete every item you bought to manage your list.Create your own recipe book within the app – add ingredients, provide step-by-step instructions on how to cook dishes, add photos and more!
The Work Assigner App is specifically designed for managers, office and in-field personnel. Managers can create tasks and assign them to particular employees, provide details and time frames as well as site locations. After any task is assigned the assignee can log into the app under his credentials and review the given tasks. Assignees can make comments,update task statuses and notify managers when any task is completed. All the updates become immediately available to the managers. This all makes the process of task assignment easier and quicker and allows to save time.
–Warehouse Management and Inspection App
This app is designed to assist warehouse managers with running a warehouse. In covers inventory management, record keeping, tracking goods, performing inspections more! Is it a whole management system that will allow you to capture a rich flow of data, increase productivity, lower costs, optimize supply chain, improve customer service and satisfaction.
–Snappii QR & Bar Code Scanner
There is finally an app that enables you to scan both QR and Bar codes and save them on your device.  Just point your smartphone or tablet camera at a code and immediately scan it. You will be able to share the scanned codes as well as other details you have captured. Create custom PDF reports and have images of scanned QR and Bar codes right on them. Have a powerful scanner always at hand and scan codes on your way.