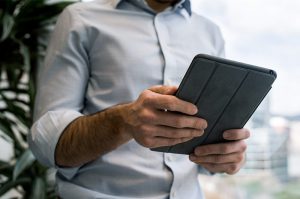 In recent years, companies have increasingly incorporated mobile apps as ways of enabling employees to easily access certain functions and data. Such apps are a must in order for organizations to stay competitive. Facility management is a good example of an industry that can greatly benefit from the use of specific mobile apps.
Facility management is a rapidly growing industry, encompassing a vast array of processes, such as planning, inspection, maintenance and more. Facility management workers are often in move and they need multifunctional, smart apps to work on-the-go. Here are some benefits of using facility management apps in the field.
Constant access to timely data
To make work more efficient, it is important that employees can access crucial information in real time. Facility management apps allow employees to collect and upload accurate, timely data, edit and view it from any location. The team can more productive collaborate on projects and share information quickly. Facilities managers can efficiently track assets, make necessary changes and better decisions.
More efficient business processes and rise of productivity
Facility management apps will not only allow employees to speed up current operations but also help in figuring out better and easier ways to carry out various tasks at work. This will lead to increase of the productivity.
Increased safety
Facility managers have to track all the assets within the organization. Trying to achieve this manually is not an easy task and is prone to human mistakes. By using facility management apps, managers have the ability to track and locate their assets in real time. Such increased control over the assets will ensure that they are safe at all times. Also, streamlined and conveniently stored data allows companies to stay legally safe and be ready for any inspections and reporting to various authorities.
Cost effectiveness
Facility management apps are cost-effective in the long run and give greater ROI. No need to hire additional team members for paperwork, as well as no need to contain file cabinets, spend money on printing, typing up documents and so on. Faster operations mean savings. Moreover, every error costs your business money. Accurate and real-time data will help avoid this.
How to get started
Snappii successfully works with a wide range of business operations for about 10 years. Facility management is the field, where we can offer quite effective solutions. Conduct inspections, create punch lists, manage inspections all in one app. Improve field teams and office communication, quickly take unlimited number of photos and mark them up. Facility apps from Snappii are a great tool to:
– Improve Documentation
– Improve problem identification and resolution
– Prevent problems
– Lower insurance costs
Snappii's ready-made apps for building and property inspections and facility management provide useful functions for quick operations right in the field. Moreover, these apps are 100% customizable to your personal needs and can become even more beneficial. One apps can significantly increase the revenue of the whole business.
Snappii is able to create any app from scratch. Our team will try to realize your requirements and ideas in record time. Hundreds of companies in many industries have already got the advantages from this and overtaken their competitors.
Snappii is here to be your guide in facility management mobile solutions. We can schedule a quick demo and provide you a free quote to start creating the app. Contact us with any questions and requirements.