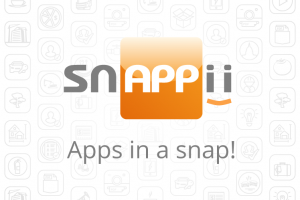 Kevin Benedict, the Senior Analyst for Digital Transformation at Cognizant claims that "Companies are under tremendous pressure to develop and deploy mobile apps for their business systems, yet the traditional approach to mobile app development typically costs $250K+ and takes 6+ months for a single app." Snappii, a leading RAPID mobile app development company, allows solving this problem by delivering custom-made apps in days and saving our clients thousands of dollars in the meanwhile. In fact, for as low as $5,000, Snappii can build a quality mobile app designed specifically to meet your business needs. Below we will walk you through the 5 fundamental steps of the custom app development at Snappii.
The process of creating your custom app consists of:
Discovery
Scope alignment
Development
Revision
Shipping and production.
            At the discovery step, you communicate your overall expectations for the app, and our developers make sure that they have a clear understanding of what features the app must have and which ones are optional. Here you can also familiarize yourself with the apps that we have previously designed to get more ideas for your future app.
            Once all the expectations have been communicated, it's time to discuss your custom app's features, capabilities, and your design preferences. By the end of this phase, you'll have received a list of itemized features, a few mock-ups of the app's screens, and time and cost estimates. If you are satisfied with our offer, you pay 50% of the overall cost, and our app-builders embark on building your mobile application.
            When the first version of your app is ready – we call such versions "prototypes," – you can view and test it on our Preview App or with a Web2Phone copy delivered to your mobile device. At this stage, we welcome all your comments, suggestions, and concerns. Here you can also request additional features, and, if they considerably increase the development time, we give you a new quote. This process goes on until you've seen several prototypes and are finally satisfied with the appearance and functionality of your application.
            After several prototypes have been built and revised and discovered bugs have been fixed, you pay us the other half of the overall cost, and we publish your app to the app stores you indicate. At this stage you can also buy a post-sales support plan to ensure that your app is regularly updated and enhanced.
            We hope that today's blog post has clarified the app development process offered by Snappii. However, if you have additional questions, please do not hesitate to contact as at sales@snappii.com or (603) 651-0066.