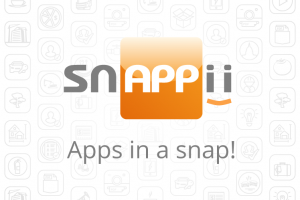 As we discussed before, getting a sophisticated mobile business app off the ground while being faced with an enormous app backlog is no easy task. Fortunately, not all mobile business apps require complex coding, integration, and numerous features. In fact, often it makes more sense to spin up a simple mobile business app easily and quickly without coding. Such apps are usually called "micro-apps".
Micro-apps allow quickly addressing a task at hand or eliminating steps in a process by using a simple and intuitive codeless drag-and-drop platform like the one offered by Snappii. A few swipes, clicks, drags and drops, and the app with mobile forms, galleries, an in-build camera and barcode scanner, audio, video, GPS, digital signatures, notifications, role based access – you name it- is ready for launch.
Simple codeless mobile apps can also kick-start the process of replacing paper-based processes with mobile forms. Slick and intuitive digital forms for inspections, inventory, and surveys can forever take the place of archaic, paper-based, error-prone workflows without a heavy reliance on swamped with other assignments internal IT resources or paying for expensive external services.
Moreover, micro-apps come to rescue in case of service disruption or catastrophe management to improve reaction times and facilitate better informed decision making. Let's take the case of an app developed for the UK rail infrastructure in 2014, when adverse weather conditions severely damaged the UK rail infrastructure. The app was built in just a few hours and instantly got dispersed among the field engineers, thereby enabling the capture of images to prioritize repairs and speed up response times.
A specific type of micro-apps is called "disposable mobile apps" or simply "DMA". Provided that such apps enable geo-tracking, barcode scanning, camera, audio and video recording and sharing, they can be developed on a codeless mobile platform in almost no time, easily deployed, and then, when the mission is accomplished, forgotten until next time or even deleted all together.
Besides the ease of development and deployment of micro-apps, they serve as great empowering tools for field workers and back-office staff while letting their managers collect feedback on how their staff members respond to this innovative way of data processing and sharing. All these considerations further propel mobile innovation and adoption within the given organization and let it stay highly competitive in this ever-changing business world.