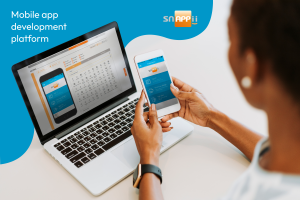 There's no denying that mobile app development is one of the hottest trends in the tech world right now. And with good reason! Mobile apps are incredibly convenient and allow us to do everything from checking the weather to ordering a pizza. But what if you don't have any coding experience? Does that mean you're out of luck when it comes to creating your own app? Not necessarily!
Mobile app development platforms
DIY mobile app development platforms come into rescue. They require no coding and use a drag-and-drop editor to help you create your mobile app from scratch or using a template. There are a number of different platforms to choose from, so it's important to do your research before settling on one. Some things you'll want to consider include the cost, the features offered, and whether or not the platform can accommodate the specific needs of your business. Once you've found the right platform for you, creating your own mobile app is easy. Just follow the instructions on the platform's website and you'll be up and running in no time.
Snappii has created a codeless mobile app development drag-and-drop editor with lots of templates to fit the needs of most businesses. Snappii codeless app builder has a set of features that allow any user create a mobile app for iPhone and Android devices fast. The drag-and-drop wysiwyg editor (what you see is what you get editor) is simple and straightforward as 1-2-3. First, you choose whether you want to build a mobile app from scratch or using a template, second, you drag and drop the elements you want your app to have, filling them with content, changing colors and font, third, you preview your work on your device using a native Preview app.
Once you are satisfied with the result, choose how you want to publish your mobile app. It can either be a private app for you and your company usage, or it can be a publicly available app in the AppStore. If you choose the latter, make sure you have an Apple and Google developer account to publish your app. Mobile app development is an interesting process you'll enjoy with the right tool. Snappii offers video tutorials, user manual and other resources in case you have questions on particular elements and buttons. Additionally, Snappii has a great customer support to guide you through its app builder.
If you feel that you do not have the time to complete your app, professional Snappii app builders will take it from  where you left off and make sure the app is done the way you wanted it to be. We are certain, however, that you will love the process of building your own app. The Snappii WYSIWYG Editor is created for simple people to create mobile apps without programming skills. It has a set of pre-built templates you can choose from or start a brand new app from scratch. Change colors, upload your images, drag and drop elements and buttons, save your work and preview it immediately on a mobile device. Watch more.
As you can see, with the rise of smartphones, every business wants to have an app. Hiring a mobile app developer is too expensive. That's great to have a mobile app builder that requires absolutely no coding skills. Anyone can create iPhone and Android apps in a matter of hours.
If you're interested in creating your own mobile app but don't know where to start, definitely check out Snappii  app builder. It's an easy and affordable way to get your app up and running without any headaches!