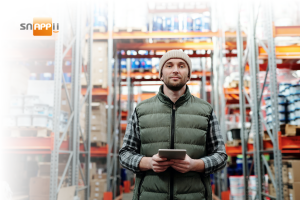 A warehouse is a place with organized storage. All the boxes are at their designated place, everything is under control, clean and tidy. A good warehouse is the opposite of a mess. Unfortunately, too often, warehouse managers fail to bring their warehouses to a level of mastered order. Just imagine all the paperwork that has to be done to make sure all the boxes are placed where they intend to be, the number of the shelf indicates the exact box on it, and the container really contains what is supposed to be there. That's where mobile apps for warehouses come into play. Snappii has created a list of top 3 apps to improve warehouse operations and ensure your warehouse is a perfect place.
Warehouse inventory and shipment app
Warehouse Inventory and Shipment app is designed for warehouse keepers to perform a lot of different operations by using tablets and smartphones. Being equipped with a bar code scanner and photo capturing it will help you collect required details in seconds and add them to your database for future reference.
This app will allow you to:
– make warehouse inventories in minutes
– create supply records
– track goods that are shipped in and shipped out
– make quick pick lists
– save captured information
– sync data across multiple devices
– bar code scanner
– take pictures
– show locations on a map
– get custom looking PDF and Excel reports
– share reports via email and upload to cloud drives
The app is available for free download from Apple and Google Stores and can be customized to fit the needs of your warehouse. Contact us.
Forklift inspection app
No warehouse without a forklift, and no work without properly operating forklift. To make sure the forklift is in good working order, use a mobile inspection app. No more need to drag your laptop and camera. Instantly enable forklift inspections with any mobile device.
The Forklift inspection app provides both mechanical and visual checkpoints for inspecting forklifts. Utilizing the Forklift Inspection template you will keep machines in a good working order and in a safe condition. As soon as the inspection form is completed, it gets saved locally on device and there is a PDF and an Excel file generated. These files can be printed and shared via email, text message, cloud storages (DropBox, Box, Google Drive, One Drive) and other sharing options available on your mobile device.
The app is available for free download from Apple and Google Stores and can be customized to fit your business needs. Contact us.
Inspect anything
Regular inspections are a part of any business. That's why mobile apps for inspections come in handy. They have a pre-built inspection form that is easy to fill out, it takes less time to collect required details, and finally, no need to deal with paperwork. Mobile inspection apps allow its users to take photos, create professional PDF/Excel reports, access it 24/7 and share with anybody from anywhere. Snappii has created its Inspect anything app to help make any field inspection a breeze.
Create full-length reports with photos, drawings, QR codes, barcodes, and locations. Tap "Save and email" to instantly generate PDF and/or Excel inspection reports and email them to the designated email address. Created reports will be stored locally on your device and available for sharing or printing later on. Completed inspections will be also saved to be edited, shared or deleted on demand. Streamline inspections by using Inspect Anything on your mobile device to improve accuracy, efficiency, significantly cut down your report writing time, and bring in more business.
The app is available for free download from Apple and Google stores, and can be quickly tailored to fit the needs of your business.
Mobile apps help save a great amount of time for us. Why not use them in everyday tasks and improve warehouse management? Give yourself the benefit of going paperless in no time. Try Snappii business apps.