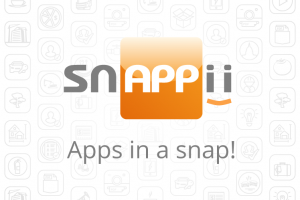 Mobility is critical for an enterprise of any scale these days. No more are we asking the question of whether to develop a business app.  Nowadays a more relevant question to ask is what development path to choose: to build a mobile app internally or to order a custom mobile app from an app developing company. In fact, whether your application will be designed for employees, customers, or both, your business will largely benefit from a custom mobile app, more specifically a codeless mobile app, for several reasons, namely the agility of codeless app development, the ability to keep development costs down, and the easiness of integration with the company's existing systems.
Understandably, small and medium enterprises can't afford to develop an app in-house and constantly update it; however, the path of internal app development might not be the best for large businesses either. Thus, for instance, several executives surveyed by Appcelerator stated that their IT resources should be spent on other tasks, where a more pressing need exists and which can't be outsourced. Take business-to-consumer apps, for example. By outsourcing the development of business-to-employees apps, which don't require rich graphical interfaces and can be built within a few days, experienced developers can focus more on consumer apps, which have a more significant effect on the company's bottom line, while the company saves thousands of dollars on app development.
Another reason why enterprises should opt for custom app development is that businesses constantly evolve, and so do technology needs. As we know, it might take up to a year to develop a mobile app, unless it is built on a codeless platform (in which case an app can be built in just a few weeks). Not surprisingly, by the time the app is ready it has already become outdated and desperately needing an update.  Hence, this process is never-ending, making in-house app development extremely costly and time consuming, if not infeasible.
One more reason for outsourcing mobile app development is the ability to deploy and seamlessly integrate a custom mobile app with the enterprise's existing systems in almost no time while staying on budget.
All things considered, it's time for enterprises to rethink internal app development and opt for a more flexible and cost-efficient alternative, codeless custom app development. In fact, according to Gartner's "Predicts 2015: Mobile and Wireless" report, by 2018, more than half of business mobile apps will be made using codeless tools. Visit our page to become more familiar with the features of our unique codeless app development platform and order a custom mobile app today.