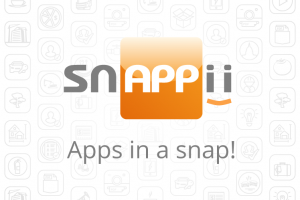 Every business wants mobile business apps but the cost of hiring developers is too prohibitive. Some businesses are offshoring app development but are running into many problems.
Just imagine trying to explain to a foreign programmer how your business works and what you need. No fun. So much will get lost in translation that often what you get is nowhere close to what you need. And the time difference of 12 hours is not helping any.  Every email will be at least a day behind.  Imagine how many emails it will take clarify what you want!
App stores are not yet populated with mobile business apps for every category and I think it will be some time before this happens. So the choices today come down to expensive on shore development or learning to build mobile business apps yourself.
The good news is that visual drag-and-drop tools have come of age. Snappii for example has been in active development and use for over 3 years and is now powerful enough and has enough features to build real business mobile business apps, I am not talking about marketing "brochureware" mobile business apps.  I mean serious business mobile business apps that automate or mobilize some part of existing business process.
All the features in the world would not do a business person any good if they could not learn how to use the tool.  Let's face business people are not coders and won't master writing lines of code any time soon. But business people have used many tools that utilize drag-and-drop visual concepts.  The likes of Photoshop and many visual tool people learned on Windows really taught everybody how to build things by dragging and dropping.  It is quick and easy to do. Just about every prototyping tool used drag and drop idea to let out user interface.  The universality of this concept is what enables business users now to build real functional mobile business apps when coupled with a feature rich visual app development platform like Snappii.   I would encourage you to watch some video tutorials to see how easy it is.