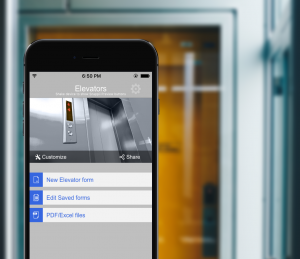 A quite important part in the facility maintenance field is elevator service. Modern elevators can be pretty reliable as long as they are properly cared for. Regular inspection is a key point. This process can be alleviated, accelerated and optimized with the assistance of a special software known as elevator inspection apps.
The best assistant of elevator inspection process
Meet an Inspect & Maintain Elevators app from Snappii. This elevator inspection app is designed to ensure that operating elevator units are tested, inspected and functioning properly. Cover each major system and component of elevators. Easily and quickly fill in various pre-made fields, add photos and signatures. Also you can generate a PDF report and send it. Snappii elevator inspection app is customizable to any specific needs. Learn more about the app in a short video.
A task and its successful solution
Vision Elevators from Southern Africa is among Snappii's successful customers. We have helped them optimize work with data and employees' work hours tracking. Here is an excerpt from the case study:
"What was the scope of Snappii's involvement?
– The main idea for the application was to use webservices to provide the app with the required information for the infield users direct from the ERP system and then allow the infield users to complete additional information on the app and feed this back immediately to the ERP system direct from their mobile devices. 
Snappii was involved in creating the app and assisting in ensuring the information flowing inbound and outbound from the webservices was correctly linked and integrated.
Are you happy with the result?
– Yes, we have achieved what we set out to do and have saved approximately 40 hours a week in manual processing. The information we are now receiving is more accurate and is live. The GPS logging in the background has enabled us to verify if the employees are where they say they are."
Read the full version of the case study here.
With elevator inspection app from Snappii any facility manager or inspector can rest assured that elevators are safe and in a proper condition. Contact us to get more information, ask any questions or get a free quote for the app customization.