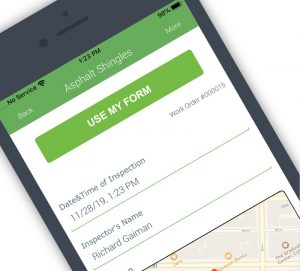 It's hard to identify a roof's condition by its look. Roof repair or replacement costs a fortune to the home owner. This is exactly why any roof needs to be inspected on a regular basis at least once a year. It takes several hours for a roofer to conduct a detailed roof inspection. Can there be an easy way to inspect a roof? Let's see if this process can be improved.
How are the roof inspections handled?
An experienced roof inspector has a full arsenal of handful equipment: a flashlight, a ladder, electric circuit tester, pocket knife, etc. but the most important part of the roof inspection is documentation. A roof inspection form should be safe to fill out as the information then is passed to the insurance company. Accuracy is key.
You can't afford to lose the inspection data or have it misread by somebody in the office due to the poor handwriting. A paper document should not be a reliable source anymore.
There's a mobile roof inspection app out there to help a roofer conduct a regular roof inspection with ease. Roof Inspection app from Snappii is free to download and try.
A roof inspection has never been so easy to perform with a mobile app. Just use your smartphone to document the data, take pictures and sign the inspection electronically.
The Roof Inspection app will allow you to:
– collect roof inspection details in minutes
– edit captured data anytime from anywhere
– work offline
– create PDF and Excel reports
– share reports via email
– take and upload pictures
– sign reports
– upload completed inspection details to cloud drives
– print reports
A mobile app will save you hours on data collection and processing. Your company will not only save the time spent to inspect a roof and deliver the documents back to the office, but also the money invested in paper storage and maintenance.
The Roof Inspection app from Snappii can be customized to meet the needs of your business. Download this app at no cost and start using it. Check out the iOS version here and contact us for the Android version.