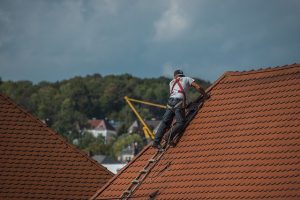 The National Roofing Contractors Association recommends inspecting all roofs twice a year: once after the coldest weather, once after the hottest weather. Besides, roofs should be inspected after any major weather event. A roof inspector inspects a roof to find leaks, damages caused by windblown debris, wear and tear, and problems that may have occurred during shingle installation or repairs. How is the roof inspection process organized? The inspector has to take specific pieces of equipment to climb a roof and collect evidence of the condition of the roof. Climbing a roof is already hard enough. Making the inspection report should not be.
Turn your mobile device into an inspection tool. Utilize your device camera to collect photographic evidence, use speech to text to quickly add notes. How is that possible while being on the roof? There's an effective mobile app allowing roof inspectors to perform their tasks with ease. Snappii introduces its Roof Inspection app. The app is specifically designed to perform multiple types of roof inspections by using your smartphone or tablet.
The app covers the following types of roof inspections:
Asphalt shingles
Clay tiles
Slate
Metal
Wood shingles and shakes
Built-up/Membrane/Green Roof
The Roof Inspection app will allow you to:
collect roof inspection details in minutes
edit captured data anytime from anywhere
work offline
create PDF and Excel reports
share reports via email
take and upload pictures
sign reports
upload completed inspection details to cloud drives
print reports
save and store data securely on your device
sync inspection data across multiple devices
share created reports with your co-workers immediately
The Roof Inspection app is available for free download from Apple and Google stores.
With the Roof Inspection app, the inspection process is a breeze. No more clipboards, cameras, illegible handwriting, driving paper forms to the office. No more lost forms! Mobile forms are available to you 24/7 on your mobile device. The Roof Inspection app can be 100% customized to meet the specific needs of your business. You can send us your forms, and we will add them to this app. Send your requirements here.