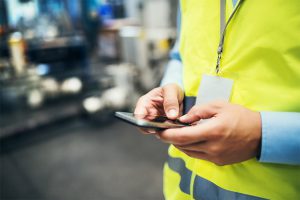 Professionals admit that the majority of the construction projects are always facing delays due to whatever reasons. Weather conditions, delayed deliveries, or mistakes in the project estimation take place on many job sites. As a result, construction companies deal with frustrated clients and penalties. While weather conditions are something nobody can control, project estimation and supply chain depend on the construction job site team.
More and more managers are turning to mobile technologies to help track job site progress. Snappii introduces its Construction Daily Log app – the number 1 app for Construction professionals. This app is a great tool for everyone who is busy in the construction area. It is designed to create professional daily reports in minutes and is used by tens of thousands of construction companies around the world.
The Construction Daily Log app is available on the App Store and Google Play.
The Construction Daily Log app includes a one-page collapsed form with contractor details, site information, work performed, subcontractor progress, issues and punch lists, reasons for delays, additional work or change requests, materials purchased and received, labor and travel hours, and more. The form can be filled in without typing. Users just hit the mic, speak into it and the voice is translated into text. Also, the Construction Daily Log app captures weather conditions, locations, date and time, amount of labor performed, and other field-related information. Attach pictures to highlight progress or show problem areas. After filling out the form, it can be instantly generated into the PDF report. The report can be shared in various ways and safely stored in the app, this way users can access all the reports anytime.
Start getting the benefits:
– Keep good records of daily construction activity
– Improve project documentation
– Increase efficiency. No more lost forms or driving to the office to drop off forms
– Optimize the workflows between field teams and office employees
– Save time and reduce costs
– Eliminate paperwork and lost forms
The Construction Daily Log app is available on the App Store and Google Play.
This week the Snappii team will show you how this app works. Register for a free webinar and learn to create professional daily reports! Join us on July 8th at 12 PM EDT. Book your seat!
Feel free to send us your feedback at support@snappii.com.