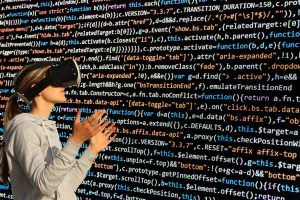 Certain types of media have been on the decline. This shouldn't come as a surprise to most – technology is cyclical. When radio was invented, it swept the world with a new medium that was more based on magic than actual engineering. Then TV came and radio was pushed out of homes and into cars and cellphones. Businesses were more likely to use the radio in their day-to-day operation then the average consumer was to listen to it. Television would be the go-to source of entertainment for the next twenty years.
As the world got better and better at connecting to people from all parts of it, the internet was born. A compendium of information waiting to be accessed by computers. Just like the TV and radio were tools for accessing media, computers, smartphones and mobile apps became tools for accessing the internet.
So if you can't wrap your head around mobile apps, here's the gist: mobile apps are just the newest medium to connect to the World Wide Web in an organized, software kind-of way.
Media has always been there, the only thing that's changed is our method of accessing and interacting with it. Mobile apps provide a playground for us to interact with the internet in ways we never thought possible, and the possibilities for what these mobile apps do are endless.
With online DIY platforms that can create a mobile app for you in minutes, like Snappii, anyone can have access to this powerful technology too. Benefits once exclusive to only the biggest companies, are now offered to even the small start-up trying to get off the ground. Piece together the building blocks you need, and the result is a functional powerhouse that will help accelerate business growth for years. Try it out for yourself today!
But where does it go from here? Websites like Youtube, Netflix and streaming music have been steadily increasing to the point where the television is more of an afterthought. News is getting to us faster than TV ever could have hoped to. What other ways are we going to come up with to consume media, and even social networks?
Virtual Reality
Virtual reality really started with gaming. The Oculus, produced by the company Oculus VR, is a virtual reality headset primarily used for just that. But, the engineering marvel has bigger plans. Facebook's Mark Zuckerberg, who acquired Oculus back in 2014, stated that Virtual Reality was going to take over the healthcare, education and sports industries – and by storm. Many other companies are already in the game, like Google and Microsoft, and media producers have started releasing content on the virtual reality headsets.
Software probably won't be too far behind. Oculus VR themselves says that social applications will probably be the virtual reality experience that has the longest lifespan. Many social applications are already in development, as it's expected that there will be competition in this sector. Mobile apps for business won't be too far behind. Imagine being able to sit in a room with people, half-way across the world, for lunch, all in the comfort of your own home. We've even seen examples of augmented reality being used for construction like the Smart Helmet. Like mobile apps, the possibilities are endless.
Live Streaming
Twitter unveiled their Periscope app in wake of the ridiculous success Twitch TV and YouTube Streaming has seen over the past few years. Facebook also followed suite with their own version of a live streaming platform that FB records as its being shown, allowing users that miss the broadcast the chance to revisit them.  One study reported a 214% growth of live streaming ad revenue year-over-year, which is indicative of the companies lining up to be a part of the growth. All that said, Youtube still dominates the market as it caters to so many different sectors, while being backed by one of the most powerful companies in the world, Google.
The market for mobile apps in live streaming has become saturated with different outlets. Snapchat, Meerkat, Hang w/, are all companies that have different takes on streaming with your mobile device. This allows self-made entrepreneurs to connect with their audience on an entirely different level by allowing people to see the person behind the business logo. A salon, for example, could show their work to potential clients via a live-stream, showing the different styles and techniques they use to cut hair. There's other examples of this, but the point is that you'll be able to drive people to your business digitally, which is around the corner from physically visiting.
While traditional media has been suffering lately, other forms of media haven't. Again, it's all just means to an ends. The tools we use to get media are just that – tools. As the world begins to turn to the more advanced tools of virtual reality and live streaming as sources of entertainment, only companies that can adapt will survive.
The beauty of mobile apps is that their capabilities have no ceiling. There's constant room for growth on Snappii's platform, which is completely malleable. From the simple building blocks it takes to build a code-less app, to hard-coding your own resources, creating a mobile solution for your business is simple. Don't let the big guys have all the fun. Watch your business grow exponentially by building your own mobile app with zero-coding experience and, best of all, no risk.