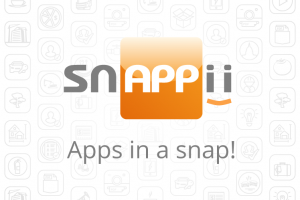 If one thing is clear about mobile technology, it's this: mobile is here to stay. New mobile software, devices and technologies appear every day.
57% of Americans own smartphones, while 42% own tablets. And those users are all downloading mobile business apps. In fact, 80% of all time on mobile devices is spent using mobile business apps.
What's drawing us to mobile mobile business apps in such large numbers – and what will those mobile business apps look like in the future? Let's take a look.
Better design
Once, mobile mobile business apps were just miniature versions of full-scale sites. But now, with improved mobile technologies and devices, that doesn't quite cut it.  The best mobile business apps have clean, simple mobile-optimized designs – a trend that will continue in 2014.
What makes a design mobile-friendly? Think "minimalism" – clean lines, limited color and less content. The best designs also include user-friendly elements like one-touch and swipe navigation.  For inspiration, look to the iOS 7 redesigns of many popular mobile business apps.
Stronger security
December's Snapchat security breach took many by surprise. But the truth is, users entrust mobile business apps – from digital wallets to social networks – with a lot of sensitive information. And they want to be certain that their information is safe.
That's why stronger security is a must for future mobile mobile business apps. Apps – especially those that require personal information –need to make security a priority. Transparent privacy policies and clear terms of use can't hurt, either.
More OS options
It's true that Android and iOS are still on top when it comes to mobile operating systems. But that won't always be the case, especially as more and more operating systems hit the market.
2014 will see the development and expansion of many operating systems, including Windows, Blackberry, Firefox, Ubuntu and Nokia's Sailfish. To appeal to the widest range of users, future mobile business apps need to work (and work well) on a variety of different OSes.
E-Commerce
The biggest source of revenue for mobile mobile business apps? E-commerce. 72% of tablet owners purchase online from their devices every week. That's a lot of buying power – and a lot of potential for app developers and online retailers.
Many businesses don't have mobile mobile business apps. But if you're a retailer, there's no question: you should be selling your product through a mobile app. Make the experience better with clear pictures, concise product descriptions, and simple payment options.
Augmented reality
 It may be a little farther in the future, but augmented reality is poised to be the next frontier for mobile mobile business apps.
Imagine an app that filters snack options by nutritional content, just by scanning the shelf in front of you. That's augmented reality – information about the world around you, delivered by your devices.  Many companies, from Google to Volkswagen, have already begun experimenting with AR, and it's only going to get bigger.
Hundreds more mobile mobile business apps are being developed every day. To be successful in the future, the best mobile mobile business apps need to blend great design with great functionality.