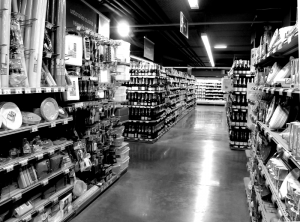 According to TechTarget, "inventory management supervises the flow of goods from manufacturers to warehouses and from these facilities to point of sale. A key function of inventory management is to keep a detailed record of each new or returned product as it enters or leaves a warehouse or point of sale". Therefore, the main components of effective inventory management are constant control, instant data collection, data availability and accurate reporting.
Mobile Solutions for Retail Inventories
Inventory management is a multi-tasking process and needs good organization. Retail inventory has one more feature, which is the focus on customer experience. Jason Peck writes in his article for CSA, "when asked to rank the most important aspects of a retailer's in-store experience, shoppers in a 2014 survey by Interactions said they are looking for stores that smell clean, are well-lit, have a clean checkout area, have neat and orderly product display, and have well-maintained restrooms. And if those surveyed who have chosen to shop at a competitor due to unmet cleanliness expectations, 93% would return if the retailer made cleanliness a priority". To keep their stores in proper order and provide goods at their best, inventory managers should move to mobile solutions in their work.
Inventory Mobile Apps
Mobile apps expedite and simplify inventory management and reduce paper use. Nowadays inventory management apps vary greatly depending on their features. Snappii, a rapid mobile business app development company, offers a universal Inventory Anything app, which can be easily customized to meet any requirement.
The main goal of the app is to simplify and make more convenient data collection. You can forget about excessive paperwork and streamline all the operations. Thus, for instance, with this app, you can scan bar codes, upload PDF documents, convert them into mobile forms, add text and numeric fields, pictures, etc. and share them in multiple ways or upload to cloud drives. Snappii's apps are 100% customizable and can be changed in accordance with your personal requirements just in a few days.
Order a Custom Mobile App
Want a unique app for your business from scratch? Just request custom mobile app development from Snappii. You will get a quality mobile app that won't cost you an arm and a leg in just a few weeks. Join Snappii and see the infinite capabilities of business mobile apps.
Paper or PC-based inventory operations are becoming obsolete as mobile solutions are revolutionizing inventory management. That is why now is the time to adopt mobile business apps and, thus, expand your business horizons.