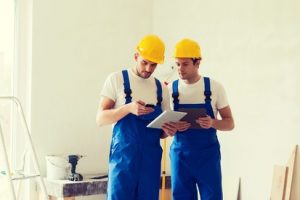 As the Internet is developing in many different directions and each of them can be smartly used to improve their business efficiently, the number of Mobile Technology continues to advance across all industries; it should not be a surprise that construction specialists are changing the way modern construction projects are being done. Mobile apps help modern construction companies to be more efficient and effective. A majority of contractors use basic technology such as laptops, tablets, and smartphones daily, which brought about the daily log app.
Why Daily Log App
Daily log app is very powerful tools that help the modern construction specialist in their day to day activities. The adoption of mobile apps and technology is being utilized by more of the construction specialists who use mobile applications to sort almost (if not) all the issues and mitigate risk across their work with one central mobile platform.
Daily log app helps activities in diverse of ways, running modern construction these days revolves around two major features: keeping your employees well-organized and ensuring high online visibility for your venture. So, daily log app is the best mobile app that can help you achieve these two goals. Daily log app helps every construction specialist that hires people and knows how difficult it is to keep them organized and keep to time. Therefore, there is the need for daily log app to smoothly and effectively organize your projects and monitor the daily activities. Fortunately, the quality of daily log app follows the demand of the market. As a result, you can choose our Construction Daily Log App to perform all the activities of your project to improve your business results.
Snappii offers Construction Daily Log App
Construction Daily Log App makes daily safety inspection checklists easier for construction specialists to reduce the risk and also keep job sites safe with a streamlined approached to identify health, safety, and environmental issues. Daily log app with on-site safety compliance capabilities can instantly capture at-risk site observations and serve as an official project record; it reduces the stress or mistake of double data entry back in the office. This ensures timely and proper management of such issues, further strengthening regulatory compliance.
Construction Daily Log App provides the ability to have a proper customized documentation and create reports in the field. The app also helps to create defect capture forms specific to your project to eliminate repetitive and error processes. Real-time time reporting provides the ability for workers to create more detailed reports when they encounter issues.
No matter what if you adopt the use of Daily log app, it's crucial and certain to make your company or business constantly available to your old customers and new clients, the easiest way to reach and achieve this goal is to communicate with them on daily basis on daily log app, on the other hand, you reply or communicate back with them in real time. Your long-term clients will appreciate this feature, especially when they have problems or issues that need to be solved as soon as possible.
Construction Daily Log App also have a great impact on reducing the delays and rework in commercial construction projects which can cost a lost of revenue and also negatively affect the company's reputation. It will enable the construction specialist or the manager in charge to organize and synchronize the mode of operation activities through the construction mobile apps to optimize the schedule. The manager in charge with the help of daily log app can monitor progress at multiple jobs sites and can allocate, distribute materials to all the job sites in real-time.
Improve your construction business with just one app
Whether Construction Daily Log App reduces delay, improves the accuracy, helps in accountability, flexibility and helps in safety compliance in project record, or improving communication and lot more, it also supports virtually all construction business requirements. The app serves as the backbone for your company greater improvement and productivity. For construction specialist to remain ahead of competitors, they need Construction Daily Log App, which provides the best solutions.
Do you have specific requirements for this app? Let's discuss and customize it. Contact us and get a free quote.