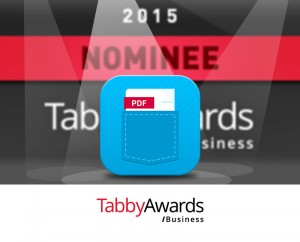 This free app enables organizations to replace paper forms with Mobile Forms instantly 
Rochester, NH. Snappii, a mobile codeless business app development platform and the creator of over 100+ free business apps for various industries. Snappii has announced today that its My PDF Form Manager app has been nominated for Tabby Awards as the best business app in Document & content creation & editing category. Among other nominees in this category are two apps by Adobe.
After testing over 150 apps, the international judging panel of 24 independent mobile experts selected nominees in this year's Tabby Awards/Business competition. 56 have been selected as the best tablet-optimized apps for business and professionals: The judges declared them as Tabby Awards/Business nominees. Snappii is very proud of having its mobile business app My PDF Form Manager selected as a nominee for such a reputable award.
My PDF Form Manager mobile business app was created just a few months ago but it already has been installed on 10,000+ devices worldwide and this number keeps growing. Every business has many paper forms. Annually, businesses spend billions of dollars on paper – along with purchasing costs, businesses put money into printing, postage, copying and storage. With the US consuming nearly 30 percent of the world's paper, it's clear that something needs to change. With the help of My PDF Form Manager mobile business app any person can conduct inspections, fill out PDF files, edit them, store and share in minutes using just mobile devices.
"There's not a business on the planet that doesn't have a form", says Snappii CEO Alex Bakman.  "This cool app enables people to reuse their existing forms and immediately turn them into mobile forms. If customers can instantly have a Mobile Forms solution without having to recreate their paper forms, that's a huge win for any organization. "
My PDF Form Manager App is available for free download and use in Apple and Google Stores, and can be 100% customized by Snappii to fit the needs of any business.  In addition to My PDF Form Manager App, Snappii offers over 100+ free business apps. Some apps are applicable to any business while others are specific to one of 24 industries Snappii supports.
About Snappii:
Snappii is a unique mobile solution for businesses that offers both: a platform to create mobile business apps without programming in days, not months, and a wide selection of ready-made industry specific and general apps that can be downloaded from Apple and Google Play store at no cost. Over 20, 000 apps have already been built on Snappii, with customers range from the largest Fortune 500 companies to medium and small organizations. Learn more at http://www.Snappii.com.