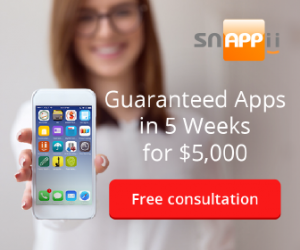 Now Any Business can get a custom made mobile business app that runs on iOS and Android smartphones and tablets in only five weeks for $5,000.
Snappii is a cloud-based platform for rapid mobile app development of enterprise grade and secure business apps. Snappii develops custom business apps in weeks instead of months while saving organizations thousands of dollars. Today Snappii has announced a new offer called 5 Weeks-$5K-Guaranteed App™. Snappii will build a custom feature rich mobile business app for any company in 5 weeks for $5,000. Guaranteed, or the app is free. Snappii is able to offer such a bold promise, because it uses its own ultra-fast codeless app development platform to create native iOS and Android apps.
Any business or organization is welcome to fill out an App Request Form and Snappii will build the prototype app within 48 hours. To see the apps work customers should download and install the Snappii Preview App available for iPhone, iPad and Android devices.
"When a company wants a custom mobile app developed they typically have to wait 4 to 6 months and spend about $20,000+ to hire developers." Said Alex Bakman President and CEO. "Snappii builds mobile apps in Days vs. Months and at a fraction of cost of traditional app development companies."
Over 20 thousand apps in 17 languages in 29 industries were built by using Snappii and the apps are widely used all over the world. These apps run on over 3 million devices and this number continues to grow. The apps cover a wide spectrum of use cases and industries. Some of the most popular app categories include:
– Inspections Apps
– Data collection
– Mobile Forms to replace paper forms
– Workflow and Resources Management
– Inventory Management and Control
– Safety Management
– Regulatory Compliance
– Business Marketing
– Loyalty Apps
– Human Resources
– Education
– Travel and Expense Management
– Invoicing
Snappii has implemented these apps across many industries. Some of the most prominent industries include:
– Manufacturing
– Oil and Gas
– Construction
– Heavy Equipment
– Transportation and Logistics
– Retail
– Field Services, Support and Sales
– Healthcare
– Public Safety
– Warehouse Management
Snappii also offers ready-made mobile businesses apps with over 90 business apps that are free and available for download from Apple and Google App Stores and are used by hundreds of thousands of professionals every day. These apps can be 100% customized to fit the needs of any business organization.
Mobile business apps have proved to improve business processes and workflows, save businesses hundreds of thousands of dollars a year on data collection and reduction in use of paper forms. According to Gartner, by the end of 2017, market demand for mobile app development service will grow at least five times faster than internal IT organizations' capacity to deliver them. No surprisingly, codeless mobile app development platforms like Snappii will take the major part of all business app requests and deliver mobile solutions to business organizations.
About Snappii:
Snappii is a unique mobile solution for businesses that offers both: a platform to create mobile business apps without programming in days, not months, and a wide selection of ready-made industry specific and general apps that can be downloaded from Apple and Google Play store at no cost. Over 20, 000 apps have already been built on Snappii, with customers range from the largest companies to medium and small organizations. Learn more at http://www.Snappii.com .