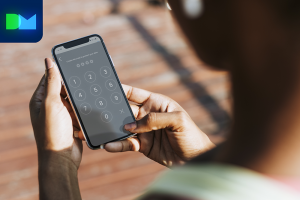 In this day and age, where phones are becoming increasingly powerful devices, it's essential to protect the files on your phone. Even if your phone was lost or stolen, you can't be sure that the files on it will remain secure. A great way to protect your valuable files is by using a mobile app from Snappii called  DocuMate Scanner app. It allows you to store files in the app safely with the pin-code. You can add a pass-code to a folder or to a file.
The DocuMate Scanner app is a great security tool for protecting the contents of your phone and you can use it for storing sensitive data and information as well. With the DocuMate Scanner app, you'll be able to lock individual data so that only someone with a pin code can access them. Not only does this mean that people who borrow your phone won't have access to any private data you have stored there, but it also means you don't need to worry about anyone trying to open important files without permission.
Snappii has created its DocuMate Scanner app with the built-in password protection for files and folders. Simply take a scan, photo or upload a document from the cloud to the DocuMate Scanner app, and assign a pin to it. Password protection for important documents will help ensure that any sensitive information stored on your device is safe from unauthorized access, even if someone else gets their hands on it. The DocuMate Scanner app is available for free download from the Apple Store. Watch the app in action here.
Ultimately, installing a mobile app isn't going to solve all of your security problems; however, it can provide added layers of surveillance over top of whatever level of intrinsic device security exists already. Therefore if you care about the content on your phone and want an extra layer of protection, it would definitely be worth considering installing an appropriate mobile application as soon as possible. Try the DocuMate Scanner app from Snappii.