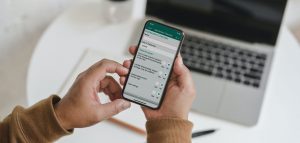 The majority of businesses wonder how they can reach out to their clients and potential customers easily. Email marketing doesn't bring the results it used to bring a few years ago. According to MailChimp, the average click rate has decreased to 3% at best. Today, consumers respond to the push notifications sent directly to their mobile devices.
Businesses realize the need for mobile apps. This is the easiest way to reach out to potential customers. Consumers use mobile apps more than access the web via their computers and laptops. According to various studies, users respond to push notifications sent to their mobile devices 26% better than to the emails. And the reason for that is that push notifications are delivered instantly, while it takes up to 6 hours for the end-user to read an email. A custom mobile business app will help you get into consumers' phones. Snappii offers custom mobile app development in weeks, not months. Send us your requirements and we will discuss your custom mobile app needs and provide you with a working prototype you can share with your team.
At Hyster, we integrate intelligence into our lift trucks and we wanted to deliver that same level of technology with our information for this app. Snappii provided a unique technology platform that enabled us to deliver this comprehensive app to the lift truck industry.
~Hyster
Custom mobile app development for your specific business needs enables you to get the product you want to engage with your audience. Contact us to discuss your requirements.
How Custom Mobile Apps Can Be Used Internally in Your Company
If you do not need to engage with the potential customers but need to organize and manage your business easily, turn to custom mobile app development to operate with:
Timesheets
Daily logs and reports
Different Inspections
Inventories
Checklists
Team management
And more
Snappii has been a game-changer for our home care agency. Our management staff is constantly in the field as we provide care for seniors throughout most of Western Pennsylvania. It has enabled our company to scale and increase our geographical footprint while keeping overhead down. Snappii did a great job of building out our app initially, and thanks to the user-friendly system, we are able to update the app on our own. Support has been great and is also quick to respond to any questions that we may have. We honestly could not run our business at this time without our Snappii App!
~John Bennett, Executive Director, Sunny Days In-Home Care, Inc.
Snappii has a great set of ready-made apps, the majority of which can be customized. Additionally, Snappii offers custom app development to meet the needs of your business. Send us your app requirements here.