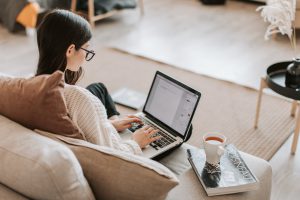 With the novel coronavirus outbreak, the majority of employees were sent to work from home. According to the Bureau of Labor Statistics, in the US only 7% of employees were working remotely on a regular basis before the pandemic, so for the rest of them, this experience was totally new.
Based on the research conducted by SHRM's COVID-19 Business Index, 64% of US employees are working from home now.
Most of the employees were feeling stressed because they had to organize a place at home to work at; they had to set up the boundaries to family members to explain that being at home they still have to do their jobs. Additional stress was caused by social isolation. In this blog post, we will see if anything has changed after the pandemic.
How COVID-19 pandemic affected remote work
Just in a few weeks, employees have learnt to better organize and manage their time working from home. A recent Gallup research shows that 59% of U.S. workers, who have been working from home during the coronavirus pandemic, would prefer to continue to work remotely as much as possible.
We see that businesses have learnt to adjust themselves to the new circumstances. Delivery of goods, not just from supermarkets and restaurants, has increased significantly. People no longer have to even go to the pick-points to take the orders from online shops or pick their mail from the post offices – the couriers will bring everything to your front porch. Taking these into account, employers now realize that more and more employees would like to continue working from home as there are more conditions now allowing them to distract less than they used to at the beginning of the remote work. Employers will have to adapt as nobody knows if the remote work is here to stay.
How Mobile apps help in remote work
Snappii understands the needs of employers to track the employees' activities and productivity. Snappii's Mobile apps are a great help in managing employees' time.
Timesheet manager app and Punch In/Out Timesheet app allow its users to
Punch in and punch out to mark the beginning and the end of the work
Create weekly and biweekly forms with work hours and break minutes
Generate the reports and send them to managers, supervisors, or accounting
Billable hours tracker app allows its users to track and bill time accurately and effectively.
Mobile apps allow employers to track daily reports of employees and monitor their progress. Such apps as Daily Log reporting are meant to easily log in hours each employee has spent to complete a task. The app calculates total hours and emails a report to the manager. The Daily Log Reporting app is available for free download from Apple and Google stores.
If your business requires any special mobile apps that will help boost productivity, simply send us your requirements here.
We already know that remote work causes less stress now and should equip ourselves with useful tools to increase efficiency.