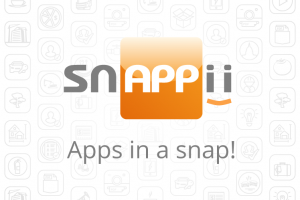 A mobile platform maker for creating iPhone, iPad, and Android mobile business apps expands support hours and offers live human support.
Snappii, a platform for rapidly creating mobile mobile business apps without programming has opened a Sales and Support office in Rochester NH.
Snappii web service was launched only a year ago, beginning with a set of small features for making iPhone mobile business apps, but has rapidly expanded its platform to create practically any business mobile mobile business apps that are 100% custom designed UI and branding. The Snappii platform now supports iPhone, iPad and Android devices enabling customers to make mobile business apps that can be simultaneously released on all mobile platforms. Great amount of cool and functional features were added to WYSIWYG editor which is used to visually create mobile business apps. Some of the most noteworthy features include: support for 17 languages, QR codes and coupons for creating mobile customer loyalty program mobile business apps, location controls for tracking people and products, forms for quickly gathering data and eliminating perform forms, photo taking for documenting, etc.
Most recently Snappii was the first mobile mobile business apps platform accepted into the Paypal Partner Program. Using Snappii platform any merchant can now create iPhone iPad and Android store front mobile business apps and take payments via all major credit cards and Paypal.
Snappii has evolved from a do-it-yourself platform to giving customers a choice of making the mobile business apps themselves or having the mobile app professionally designed and built by Snappii staff.
"Given customer demand for our mobile mobile business apps platform we have decided to expand and open the Rochester office," – Snappii Founder and President Alex Bakman said. "Our customers will appreciate being able to talk with real human beings who will service our customers. Our aim is to provide customer support that far exceeds Internet only or email support that is offered by our competitors."
Snappii also announced the Rochester Office will be headed by Darleen Drown, a high tech professional with over 20 years of experience with many successful high tech companies. She has a proven track record of growing sales and taking care of customers in high tech companies such as Ecora and Vkernel.
"Darleen and I have worked together since year 2000 in 2 companies which I have started," Alex Bakman said. "She was a key executive and big part of our success and I am confident that with Darleen's help we will succeed again."
Darleen can be contacted via email ddrown(at)snappii(dot)com or phone at 603 651-0066.
"Darleen and I are adding talented, hard working and customer focused people to our team." Says Alex Bakman.
Snappii offers demo mobile business apps for just about every industry. The mobile business apps can be reviewed by downloading the Snappii Preview app from Apple Appstore or Google Play. Attached in PDF file there are only some of the covered industries available in Preview app.
Snappii is making mobile app creating process simple and affordable for users who don't have programming knowledge and big budgets for hiring developers to create a mobile app for them. Anyone can start using Snappii web service functionality at only $39. The fee includes app maintenance, new features and excellent support. iPhone/iPad and Android mobile business apps for small businesses are created in minutes and can be simultaneously edited and managed online. Due to Snappii CMS updates are distributed immediately to users' devices.
About Snappii:
Snappii was founded by Alex Bakman, a successful serial entrepreneur who has already grown many companies from zero to millions of dollars in sales. Snappii has publically launched its services in March of 2011. All are welcome to try Snappii at http://www.snappii.com
For more information about Snappii:
Phone: 603-651-0066
Email: sales@Snappii.com