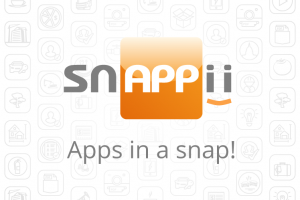 Now Any Businesses can get a custom made mobile app that runs on iPad, iPhone and Android smartphones and tablets without any obligation to purchase.
Snappii, a rapidly growing company which offers a platform for quick app development, is leveraging its own technology to create prototype mobile mobile business apps for businesses so that they can evaluate mobile mobile business apps and decide what app features their business needs to have for its clients.
Any business or organization is welcome to fill out an App Request Form and Snappii will build the prototype app within 48 hours. To see their mobile business apps work customer should download and install the Snappii Preview App available for iPhone, iPad and Android devices.
"With this offer we are making it easy and absolutely free for any business to see if a mobile app will help them make more money and save money," CEO Alex Bakman said. "We realize that many customers prefer to see their app work on their smartphone or tablet to understand how it will benefit their business. By enable businesses to see the prototype app in 48 hours without any obligation to buy we are enabling businesses of any size to explore mobile mobile business apps technology. Customers benefit not only from rapid app development but also from our ability to add new features and changes quickly."
Over 4,000 businesses have already used Snappii to develop mobile business apps quickly and inexpensively in many industries. Apps are available in the Apple Appstore and on Google Play and can be previewed by downloading Snappii Preview App which is available for iPad, iPhone and Android devices.
Snappii offers customers both a DIY (do-it-yourself) as well as full service mobile app development. The full service is ideal for companies that are short on time and development resources and need to release mobile business apps to market quickly. Companies that are interested in making iPhone/iPad/Android mobile business apps on their own can use Do-it-Yourself platform. Snappii offers cost-effective and excellent service and will greatly suit those who don't want to spend thousands of dollars on app development. Anyone can start using Snappii web service functionality at only $39. Customers are welcome to check out Snappii App Gallery to see the variety of mobile business apps made with Snappii platform.
Snappii offers a great amount of Demo mobile business apps everyone can easily check out using even without a necessity to register into the app. Listed only some of the covered industries available in Preview app (attached PDF).
With the help of these mobile mobile business apps users can easily find business locations, contact businesses via social channels/email/phone, make appointments, order meals and taxi, book rooms, interact with each other in Forum, be kept always updated with the latest news, take pictures and email them, create QR codes and QR code coupons, send Push notifications, watch videos, look through catalogues, purchase items from the app, fill out various forms thus saving money on paper and eliminating paper work, add their own functionality using HTML controls.
About Snappii:
Snappii was founded by Alex Bakman, a successful serial entrepreneur who has already grown 3 companies from zero to millions of dollars in sales. Snappii offers a platform for rapid mobile mobile business apps development and maintenance. Used by over 4,000 companies to quickly develop mobile solution, Snappii has become a preferred mobile mobile business apps development company. Snappii has publically launched its services in March of 2011. All are welcome to check it out on Snappii website.
For more information about Snappii:
Phone: 603-651-0066
Email: sales@Snappii.com