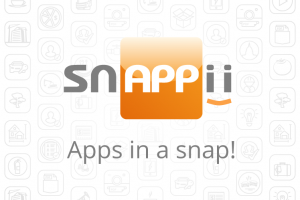 DURHAM — It may seem hard to believe, but there's a shortage of mobile-app developers in the United States.
It's a challenge for small-business owners looking to create a mobile app for their company. The trouble starts with the need to satisfy growing consumer demand, a lack of resources in information technology departments and the large price tags domestic app developers charge. These limitations force many business owners to seek services outside the United States, where app creation can be done cheap.
In 2011, local entrepreneur Alex Bakman launched Snappii — a visual mobile-app creation system — in hopes of helping small businesses make mobile business apps easily and affordably for iPhone, iPad and Android systems. Snappii offers a platform that can dramatically speed up mobile-app creation and lower the cost of custom mobile business apps.
"I realize that people need about a 'gazillion' mobile business apps because, as the Apple commercial goes, 'There is an app for that'— you need an app for everything," Bakman said.
Snappii provides customers with the ability to simply pick the needed features of their app and either Snappii or a client will assemble them visually using a drag-and-drop approach. Building mobile business apps with Snappii is done by simply "drawing" a picture of your app. Snappii then takes the picture and turns it into a native app for Android, iPad and iPhone.
"There are mobile business apps out there that cost north of $100,000 to make. That's just too expensive," Bakman said. "Snappii offers custom-built mobile business apps, and offers their customer DIY service starting at $5 per app user per month."
Services provided by Snappii boost a company's marketing capabilities, which can help stimulate economic growth for a business and local economy. Since its launch, Snappii has led the development of more than 6,000 mobile mobile business apps, all from a platform supporting 17 different languages. Snappii has also built more than 40 business-specific mobile business apps all offered in both the Apple and Google app stores. Search for "Snappii" in either app store.
Using companies outside the United States not only hurts the local economy, but can be frustrating for clients who have to contend with language barriers and time zone and cultural differences.
A recent study shows 500 million people currently use smartphones and one-third of Americans own a tablet, and for many it's become their primary means for accessing information and attracting clients. Businesses look to draw traffic to their mobile and online content as a means to engage customers. The increased use of mobile technology has environmental benefits, as it cuts down on paper waste.
"With mobile devices, especially tablets for businesses, there's no reason to have paper forms whatsoever," Bakman said. "Businesses can eliminate a lot of expense and at the same time go green. Mobile is a huge green technology."
Snappii is a member of the Green Alliance, a union of local sustainable businesses promoting environmentally sound business practices and a green co-op offering discounted green products and services to its members.