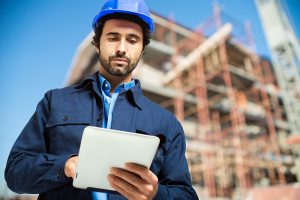 Inspections are conducted in all spheres of businesses. Construction job sites, warehouses, hotels, schools, hospitals, buildings, garages, and many other facilities and institutions require different types of inspections. Some inspections are done every week, others every month and every year. No matter how soon an inspection is due, it is always a headache. Inspectors drag clipboards with pen and paper, a camera to take photos, and other necessary equipment. It usually starts from one hour and can take several hours or even the entire day to complete a proper inspection.
It is a fact that an employee with pen and paper is prone to making mistakes not necessarily dependent on him. Take handwritten documents, when retyped into a computer, illegible handwriting is hard to read and can lead to errors. There are even more cons than that. Time is another problem. Like it was stated above, proper inspections take from one hour up to the entire day. Can this process be speeded up? We believe it can and it should.
Snappii introduces its Inspect Anything app available for free download from Apple and Google stores.
Create full-length reports with photos, drawings, QR codes, barcodes, and locations. Instantly generate PDF and/or Excel inspection reports and email them to the designated email address. Created reports will be stored locally on your device and available for sharing later on. Completed inspections will be also saved to be edited, shared, or deleted on demand. Streamline inspections by using Inspect Anything on your mobile device to improve accuracy, and efficiency, significantly cut down your report writing time, and bring in more business.
Inspect Anything allows you to:
Easily capture notes, photos, signatures, drawings, QR codes, barcodes, and locations
Instantly create custom PDF and Excel inspection reports
Modify or delete completed inspections on demand
Share inspection reports via email, text messages, cloud drives and other services
Store collected data on your mobile device and access it anytime, anywhere
Upload and edit your own PDF documents and use them as a report template
Benefits:
Capture a rich flow of data in the field
Sync collected data across multiple devices
Increase productivity and efficiency
Improve data accuracy
Improve customer service and satisfaction
Lower costs and save time
Eliminate paperwork and go green
If you are not satisfied with our pre-built form solution, you can upload your own PDF form and 100% customize it to meet your specific business needs. Contact us with your requirements here.