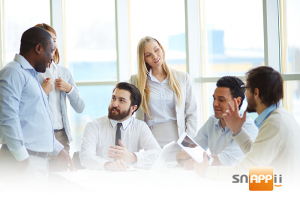 Even though it's hard to predict what the coming year will bring us, we have learned a few lessons from its predecessors. Remote work is here to stay and lots of companies have adjusted their workflow to the new reality. The quality of the services provided will not suffer thanks to the mobile apps that provide great opportunities these days. Not only will your business keep your employees safe but will also win more customers due to speedy document flow. Paperless processes allow quick decision-making and getting payments faster. Customers sign estimates, approve change orders, receive invoices all with a mobile app. Your business wins all the way around. No more driving forms to the office to sign, no more lost forms or illegible handwriting. Save hours of work and optimize daily operations.
Snappii has prepared a list of top apps to include in your business plan for 2022
Job Estimates and Invoices. This mobile app is designed to provide detailed information about projects and work completed by construction companies, contractors, and service organizations. Create professional estimates and invoices in minutes. Get paid faster! Download for iOS here and Android here.
Bill of Lading Manager app is designed for businesses to easily and quickly create bills of lading and provide them to third parties. Eliminate paperwork and speed up workflow. Download for iOS here and Android here.
Daily Activity and Time Reporting. Create daily log reports in minutes, save and modify reports on-demand, and more. Download for iOS here and for Android here.
Cleaning Inspection Checklist. Be prepared for the audit. Make sure all the surfaces have been properly disinfected. Download for iOS here and for Android here.
Inspect and Maintain Vehicles. Dot compliance. Have proof of regular inspections in case of an accident. Ensure the vehicle is operating properly so it can meet its requirements/ keep it on the road / at the job site. Download for iOS here and for Android here.
Sign In Guest Book. Log visitors in and out, run reports to see who got visited and why. Understanding who is in the building helps in case of emergency or safety. Download for iOS here and for Android here.
Snappii can demo any of its apps to you. You will see how the app works and what benefits your business will get using the app. Request demo now.
All these apps can be tailored to your business needs. Don't settle for an app that doesn't fulfill all your tasks. Snappii apps can be quickly customized, and, even more important, they are affordable. All the changes are done with the ultra-fast app development platform. You are getting a working app in days, not months if you order app customization. Contact Snappii today to get the app that you need.