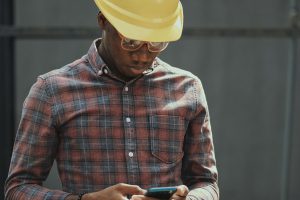 Documenting time and hours spent on a project is the key to successful project management. Employees working in the field are often left with filing documentation after work. With the advent of mobile technologies, now it is easier than ever to complete and update job statuses and provide daily reports.
Snappii has created a mobile app that is so easy to use you will not want to get back to your paperwork routine – Daily Log Reporting app. The app is available for free download from both stores: Apple and Google.
Daily Log Reporting app is a must-have for anyone working in the field and on sites. Easily log in hours each employee has spent to complete a task. Calculate total hours and email a report to the office.
Daily Log Reporting app is really easy to use and allows collecting information without Internet access. The forms will be sent over after the device gets connected back again.
To work even faster managers/supervisors can create a database of employees and works to immediately select them from the list and pre-fill the report form.
The summary app features include:
– create daily reports in minutes
– type in the manager's name, date, pick employees and works from the list
– save reports on your device
– sync completed reports across multiple devices
– upload created Excel file reports to cloud drives or print them
– work online and offline
With the Daily Log Reporting app from Snappii you can:
– eliminate paperwork
– accelerate your workflow
– accurately estimate work hours
– save time and reduce expenses
Don't settle for an app that doesn't meet your needs. The majority of Snappii apps can be customized. So does the Daily Log Reporting app. Download it at no cost from Apple and Google stores and try it. Don't like it? Tell us what you would like to change. Send us your requirements and we will get back to you with the quote.