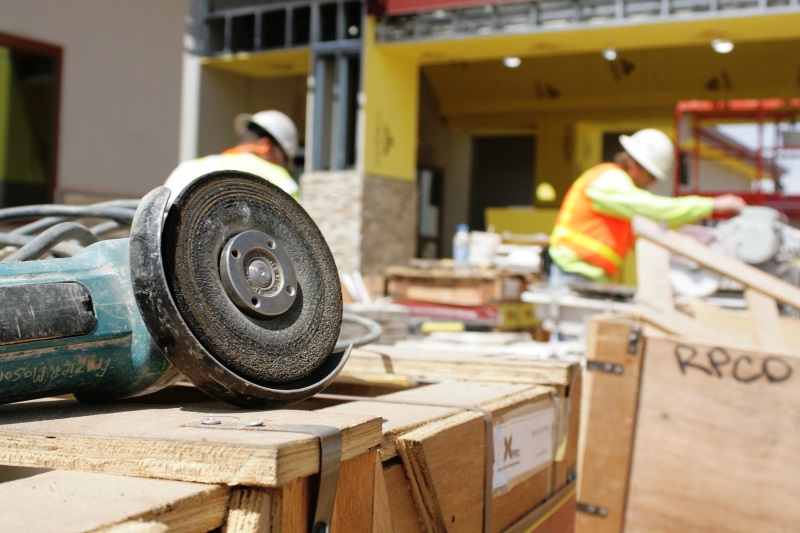 The construction industry has a lot of ground to cover.
I mean that both literally and figuratively. Despite the economy, over the past few years statistics have shown a steady increase in the construction industry. More things are being built in more places, and the amount of man-hours these infrastructures are requiring continue to climb. With not a lot of personnel to spare, the increase in work does not mingle well with the lack of labor. So how does a construction company stay on top of their business to keep bringing quality service?
Two words: mobile apps.
The idea of a mobile app, for a lot of people, could be discouraging. It's no secret that the construction of software takes a vision, proper planning and, most important, the right team to see it through. It needs to be malleable so that people on the field will be able to use it just as effectively as people on the actual construction site. Same goes for those people who are waiting in the office all day for reports. An app has to be a Swiss army knife of utility, incorporating all the aspects of the business, from plans and drawings to markup photos. When it comes to app building, however, the common denominator is always the same even between industries: cost.
Snappii, a revolutionary app-building platform, aims to keep the cost and time associated with making an app to an absolute minimum. By leveraging the self-built platform, Snappii's app developers are able to provide apps with serious utility to the end-user in as little as a few days. All it takes is an idea. Send it over to the Snappii sales team and they'll inform you on how we can help your business. Click here for a quote.
For most cases, though, the idea itself is the cause of a lot of stress. What exactly can a business do in order to offset some of the work onto a computer?
Getting rid of paper
This is the reason many companies find us in the first place. There's just too much paper in the office. Filing cabinets are begining to litter the walls, boxes filled with archived forms are clogging the halls, people are finding it difficult to actually find their desks – you name it.
One of the advantages of going with a mobile solution is that all of your paper needs suddenly get replaced by an all-in-one solution that fits in your pocket. Imagine this: your workers on the field completed their daily assignment and are now filling out their required logs that must be filed in the office. Replace the clipboard in their hand with a mobile device loaded with your latest version of your Snappii app, and a few things will happen. For starters, the report that they just filled out gets instantly send to the email of your choice. If you have a secretary in the office entering data into your backend system, this becomes as easy as opening an email and copy pasting the data created in the report.
Another advantage is that all of your receipts and logs will get indexed into a searchable archive that can be accessed at any time from the smart-device. Rather than searching through countless cabinets for that one specific form (for that one specific client), you can just input the data, name or job title and have it in front of your in an instant.
Increase communication
Yelling over the sound of loud machinery might not be the best way to get your message across to the foreman on the other side of the job site. Snappii remedied this by providing a way for coworkers to communicate right across the app with zero delay. The chat feature allows as many users as needed to be in the room, and can accomodate even the biggest construction jobs. You can't misunderstand instructions if you have them written down, right?
Another huge benefit is the use of push notifications. Unlike an email, push notifications send a pop-up to your users that directly states your message to them before they even have a chance to close it. This can be extremely useful for dangerous situations, or if you just want to let the workers know if someone needs to make a coffee run. Push notifications have been widely used in the restaurant and sales industry, but I personally believe it has a lot of functionality and weight in the construction world as well. Like I said, you can't mis-communicate when things are written down.
Unlimited changes
Finally, and probably the most useful part of having a mobile app, is that Snappii's platform allows you to be flexible with the way you set up your app. With traditional apps, if you try something out only to find out that there's an even better way it can work, you would have to rehire your developers and putting away in more funds for development time. There's a good chance that you won't be able to get the same developers either – once app shops are done, they're done.
But, because Snappii works off a proprietary platform that was constructed just to push out apps in a quick and orderly fashion, you'll never have to solely commit your ideas to paper. Just let the Snappii team know, and they'll get back to you soon on how (and what) we can do to flesh your idea out. With quick changes, you'll be able to see what works, what doesn't, and what DEFINITELY doesn't.
As I said before, the construction industry has a lot of ground to cover. Be the first in your industry to cross the finish line, and show how the power of technology can further enhance what is already an extremely efficient industry. Try out Snappii today for FREE for 14 days – you won't regret it.