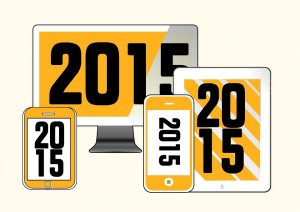 2015 has pushed mobile technology industry onwards and upwards. At the beginning of the year, the main focus was on the two technological innovations: Apple Watch, which is now selling for as little as $350 and as much as $17,000, and Microsoft Windows 10 with its greatly improved navigation for mousers, new browser, facial recognition, and Cortana, a clever personal assistant.
The Stars of America's 10 Most-Used Apps
In 2015, Google's search homepage received the status of the most popular website. Moreover, according to Nielsen, an American global information and measurement company, Google "made half of the apps on the list of America's 10 most-used apps of the year." First comes the Facebook app, which has nearly 900 million users all over the world. The second place belongs to YouTube. As for Apple, its winners of 2015 are Apple Music, which has been available for only a few months, and Apple Maps, which was launched in 2012, but whose road to success has been rather bumpy due to initial data inaccuracies. In total, According to the Nielsen survey, "Android commands nearly 53% of the operating system market share in the US, with Apple's iOS coming in second at roughly 43%. Microsoft is in a distant third, with under 3% of the market".
Custom Mobile App Development
The demand for custom mobile applications among companies heavily reling on field workers grew exponentially in 2015. Sales representatives and distributors, who need real-time customer data, including pont of sale image and geo-location features, and immediate updates on sales-related activities, when on or offline; stock traders, in need of secure access to trading transactions and evaluations away from the office; oil and gas employees, who need to take notes and monitor equipment when in the field, nurses, who require on-demand access to patient information  – are just a few examples of those employees who highly benefit from the adoption of mobile apps at the workforce. At Snappii, we offer affordable custom mobile app development. We guarantee that a powerful feature-rich app will be built from scratch or customized based on the available ready-made applications in accordance with your requirements and needs within just a few weeks. Snappii keeps up with the times but always ensures top-quality service and customer experience. Check us out and see for yourself.