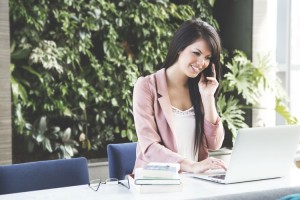 Just 30% of employees in America feel engaged at work, according to the 2013 report by Gallup, which means that 70% aren't content with their jobs. This number is staggering, but what can one do to overcome their dissatisfaction and look at their job in a new way? Maybe it is worth trying what mobile technology has to offer before calling it quits?
Mobile Technology Can Transform Our Work Environment
Noah Wasmer, EUC CTO and VP Product Management at VMware, writes in his article for Forbes, "I believe we are finally on the precipice of a significant transformation in how business itself is done and, perhaps more importantly, how workers experience "work". The main reason of such transformation he sees in modern mobile technology, namely mobile business apps. "In 2016, an incremental set of business apps will change the very definition of productivity – and make work a fun experience," Wasmer writes.
Paperwork Reduction
Working with endless documents makes each work day long and monotonous. Fortunately, special mobile apps for data management can help you simplify and accelerate data collection and processing. For example, Snappii, a rapid mobile business app development company, offers My PDF Form Manager app, which allows employees to work with multiple forms in a digital format. The app is equipped with useful features for safe data access, collection, storage, and editing. Hundreds of employees have already adopted this mobile application and made it part of their daily operations.
Less Stress and Confusion
Frequently the large number of tasks leads to confusion and unnecessary stress at work. However, these issues can be prevented with right data management software and task management mobile apps as they allow employees to streamline workflow, avoid downtime and increase productivity. Moreover, they can help in planning daily activities at work and, as Kerry Hannon notes in her article for Forbs, "more flexibility in scheduling day-to-day activities leads to greater happiness on the job".
Rebuilt Moral
Do not throw in the towel just yet. Maybe you need just a little assistance to explore new horizons within your job. Snappii offers a great collection of multiple mobile apps for different types of operations and across several industries. All of these apps can be 100% customized to meet your needs. Moreover, you can order your personal custom app with a required set of features and certain design. Snappii will be happy to contribute to the satisfraction with your job!