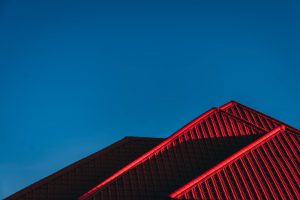 With the beginning of summer it is a great time to pay special attention to home exterior maintenance, which influences its long life. That includes roof maintenance and inspection. Metal roofs are more common and well-known for being easy to maintain, long lasting and durable. Metal Roofing Alliance (MRA) recommends homeowners inspect and clean their metal roofs regularly to ensure maximum performance and safety. It's important to pay attention to proper maintenance methods and follow metal roofing manufacturer's specific recommendations. Being proactive about your roof maintenance allows you to identify issues before they snowball into expensive repairs and replacement. There are 3 common tips while performing roof maintenance and inspection.
Safety is always the first point
Roof maintenance and inspection tasks come with certain safety risks. You have to lift some tools and materials and also protect yourself from a slip or a fall. Use ladders, slip-resistant shoes, assistant help and think of all ways to protect yourself. Safety is paramount.
Don't forget about ventilation
Your home's ventilation plays a key role in protecting your roof in the long haul. Keep in mind this while inspecting the roof. Check whether your ventilation is compromised. Evaluating your home's cooling bills can also help you with it. Call a professional if you have any doubts and don't miss this point.
Use mobile apps
Use roof inspection software to manage and schedule inspections, easily and quickly capture and add information, generate reports, safely store all data and use it when necessary. Mobile forms and checklists allow users to fill in pre-made fields in a few clicks. Completed mobile forms can be sent to anyone. Roof inspection apps are the best way to optimize roof maintenance process, make it regular and accurate.
The best Roof Inspection app
Snappii offers Roof Inspection app, which covers the following types of roof inspections:
– Asphalt shingles
– Clay tiles
– Slate
– Metal
– Wood shingles and shakes
– Built-up/Membrane/Green Roof
The app allows users to collect all required details in minutes, take and upload pictures, make notes, add digital signature and more. Completed forms can be used to generate a report. These PDF and Excel reports can be previewed and shared via email or other ways. Roofing companies are able to use the address book and choose clients from it to instantly share any report with them. Upload all inspection details to cloud drives and have a constant access to all data. This video can provide more information about Roof Inspection app and show how it works. Download the app for iOS and Android devices and start using it right today. Need any app customization? Contact us and let's discuss it.