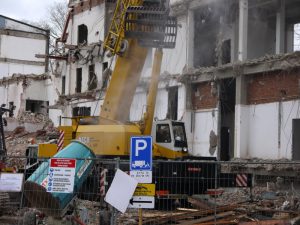 When it comes to demolishing or deconstructing, there is specific heavy equipment that helps get the job done efficiently and effectively. Such equipment includes excavators, track loaders, feller bunchers, skid steer loaders, dozers and more. These machines also usually use special hydraulic tool attachments. It is important to carry out regular and proper maintenance of such complicated equipment, because its repair and replacement are extremely expensive.
Advantages of mobile solutions for heavy equipment maintenance
Modern mobile solutions can simplify and optimize heavy equipment maintenance. Where you once used reams of paper and depended on paper checklists, you can now know at a touch of a button what state your equipment is in. Heavy equipment inspection and maintenance mobile apps actively become a standard tool for keeping machines active and avoiding unnecessary downtime and expenditures. This way, heavy equipment is able to operate at its full capacity and workers can complete jobs faster and smarter.
Advanced and reliable heavy equipment inspection and maintenance mobile apps
Snappii offers several powerful apps for heavy equipment maintenance. Heavy Equipment Inspection app allows users to conduct inspections without tedious and unreliable paperwork. First of all, this app ensures safety of people and machines working in the field. Heavy Equipment Inspection app provides both mechanical and visual checkpoints. Inspectors can quickly indicate problems, disrepairs, malfunctions in the equipment performance and instantly eliminate it. Construction Equipment Inspection is more specific app, which can become a useful assistant for maintaining various construction heavy equipment. Also Snappii is able to create any custom app from scratch. We meet the requirements and build an app in weeks.
Having your equipment ready for work is a key factor in winning and fulfilling contracts. Make heavy equipment inspection and maintenance mobile apps a part of your maintenance strategy.