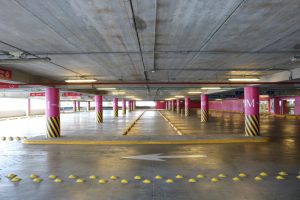 Parking is a part of an overall transportation system, and parking facility is a community building type that is used every day. As the number of automobiles increases around the world, parking garage construction is also in high demand. There are several types of parking garages: single level, multilevel or multi-storey parking garages and underground parking garages. Stores, offices, hospitals, airports, etc. have extremely different requirements for a parking facility, but they all have one common thing – qualitative, safe and long-lasting parking solution. This way, parking garage construction teams have a great responsibility. There are some tips to optimize and improve parking garage construction process.
Knowledge is power
Start from the right information, recommendations, guidelines and practices. For example, "Precast Prestressed Concrete Parking Structures: Recommended Practice for Design and Construction" and "Maintenance Manual for Precast Parking Structures", both by PCI (Precast/Prestressed Concrete Institute), "Guide for the Design of Durable Parking Structures" by ACI Committee 362 (American Concrete Institute), "Design fundamentals of post-tensioned concrete floors" by Post-Tensioning Institute and more.
Planning and increased attention to all details
Successful construction begins with a proper planning. Planning for parking garage construction is a complex process and requires the collaboration of many professionals. Planning for the integration of parking in the environment must first start with the consideration of a site. Be sure you are aware of all the constraints and legal aspects. Otherwise, this kind of omissions may nullify the entire construction project.
Testing and observation
Pay special attention to the testing. The type and extent of testing can vary by construction type and by the conditions. It is always necessary to keep in mind that what is appropriate for a precast concrete garage is not always appropriate for a cast-in-place or steel-framed structure. A mandatory point of parking garage structure testing is an observation of concealed conditions and details.
Thorough work with data
A thorough and complete set of construction data and documents contribute to the better results, in-time and on-budget project and reduction of surprises during the construction process. It is essential to engage the whole team to work with various data. Thanks to modern mobile solutions, data collection, processing and delivery become easier and faster in the field.
Mobile app as an inalienable part of construction process
Snappii, a leading mobile business app provider, can offer a unique and powerful solution for precast concrete parking garage construction. Precast Erectors Planner app allows its users to work with different data right at the jobsite, avoid delays and sync the whole workflow. No more wasting labor hours, expensive equipment, sitting idle, waiting pieces from manufacturing. Erection sequence, automatic calculation, instant team notification, daily and anytime status reporting and more. Get detailed project documentation for defending your actions. Increase your profits by synchronizing your entire field team, contractors, and backoffice. Watch the video and download the brochure to learn more about the Precast Erectors Planner app. "An app like this can save $4,000 per hour," says Mark McGee,Field Operations Manager at Coreslab. Snappii is ready to customize the Precast Erectors Planner app specifically for your personal needs. Contact us to discuss it.