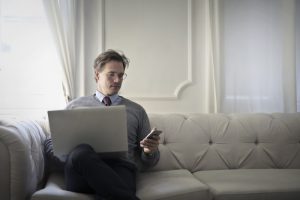 The COVID-19 pandemic crisis has not only had a huge impact on people's health, but it has threatened many businesses. Social distancing and self-isolation help mitigate the spread of coronavirus, but how can you support your business staying home?
The necessary measure
Many businesses have had to embrace the idea of working from home and, in the current situation workers may plunge into it for a quite long period. Remote work is full of pitfalls for both managers and employees. However, this is the best solution for businesses now, and the fields without the opportunity of remote work will suffer significantly more. Here are some tips for working from home.
Self-organization
Found that remote working is associated with higher workplace wellbeing with the benefit of flexibility and autonomy. Take advantage of a favorable home environment, however, don't forget about the organization and keeping of the working spirit. Establish work-life boundaries. Make a clear to-do and deadline lists. Also you can make schedules and plans to avoid waste of time and distractions.
Work-life boundaries
Discuss your work from home with your family members or roommates and set the rules during your working hours. It will be a little harder to negotiate with children. Hold a family meeting to explain how your job works, focusing on your responsibility. Set up a system of signs and requests. Also, reward good behavior.
Working space
Organize your own workspace. Ideally, having a separate room can significantly help. Also don't clutter the space. Excess things can distract. Your efficiency and productivity are associated with the tidiness of your working space. Try to be as organized and concentrated as in the office.
Communication and interaction
Remote workers should regularly contact their colleagues via chat, email, phone or voicemail. Video- conferencing can be extremely useful. Also mobile apps are the best way of communication, synchronization and data exchange. Let's consider in details what advantages mobile business apps can offer for remote work.
– Constant convenient communication
– Processing any data and instant sharing
– Creating complete reports and their providing
– Making instant calculations and estimates
– Creating timesheets and syncing with the whole team
– Work order assigning and workflow tracking
– Convenient and safe storage of documentation in the digital format
The best assistant in remote work
Snappii is a leading mobile business apps company. About 500,000 people use Snappii business apps in 30 industries around the world. We offer ready-made apps for a plenty of operations, which can become very useful for remote work. For example:
Find more apps in the gallery. Most Snappii apps can be customized to meet any personal needs.
Moreover, Snappii offers smart mobile forms for usual business operations. Download Snappii Mobile Forms app with 100+ ready-to-use form templates. The app enables anyone to fill out mobile forms and create reports in a snap. Type or speak data into fields and the app will complete the report. Also you can use your own forms. Just send them to us and Snappii team will quickly convert them to the app.
Staying home is one of the major parts of safety nowadays. And Snappii will do its best to facilitate your remote work.