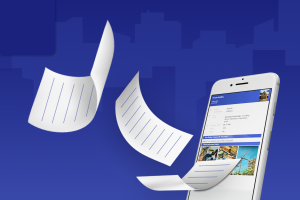 Employees have to submit their reports describing tasks completion and hours spent on each task every day. After a long hard day at work it takes even more time to remember what exactly was done. In order not to miss a thing, the employee sits down and reconstructs the day from the first minute of the shift. Often there are cases when the employee is in a hurry to leave work as soon as possible, so daily reports can be left out and forgotten.
In order to prevent such unpleasant situations, the manager has to remind employees to keep records of their activities, and sometimes, to make it even easier for the employee, the manager fills in the daily reports for employees. After all, the manager has to generate consolidated reports and provide them to boss or client.
Snappii has created a few mobile apps to help keep good records of daily activities. Let's take a closer look at each of them.
Construction Daily Log App. This app is suitable for construction workers in the field. The app helps save 60 minutes per day on daily reporting! The Construction Daily Log app consists of a one-page collapsed form. Choose which sections you need to fill in and submit the report in seconds. No need to type, hit the mic and speak your answers. Saves time tremendously! The Construction Daily Log app is available for free download from Apple and Google Stores.
Daily Activity and Time Reporting. This app is meant for the supervisors and managers who have to report daily on tasks accomplished and time for employees or contractors. Easily log in hours each employee has spent to complete a task. Calculate total hours and email a report to the office. The Daily Activity and Time Reporting app can be downloaded from Apple and Google store.
My Daily Report App. The last but not least from our list of daily reporting apps is the app that helps employees submit professional daily reports from anywhere in seconds. The app is simple and has the option to add notes and a couple of photos. It takes just a few moments to fill in the daily report and share with anybody. My Daily Report app is available for free download from Apple and Google store.
Daily reporting should be simple and easy, and of course, require minimum time. Snappii understands the speed of life and offers its mobile solutions to every industry. Accelerate daily reporting and spend more time doing real job. Talk to us if you want to see any app demo.