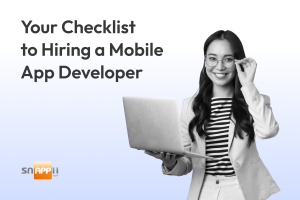 Are you thinking of developing a mobile app for your business but not sure how to begin? Hiring a mobile app developer to create a custom business app might be a great idea. But how do you find an ideal app developer and what costs are involved? Here are a few pieces of advice to help you:
Determine your goals. What do you want to achieve with a custom business app? Do you want to grow sales? Do you want to increase client interaction? Anything else? Setting up a clear goal will help you choose the right functions for the mobile app and help measure your success.
Conduct a research. All mobile app developers are different. Some of them specialize on specific apps only while the others are more flexible. Read online feedback and take a look at the portfolio to have a better understanding of each developer's skills.
Get a quote from several mobile app developers. After you have narrowed down the options, collect pricing offers. Don't forget to ask about their experience, costs and project development timelines.
Make sure you are on the same page. Sign a contract prior to hiring a mobile app developer. The contract must distinctly state the scope of work and the results. This will help escape any problems in future.
Spending some time looking for a proper mobile app developer and identifying clear expectations, you can rest assured your mobile business app will be successful in helping to achieve all your goals.
Snappii has over 11 years of experience in developing custom mobile app for business. With thousands of happy customers around the Globe, Snappii has earned a brand that is stable, reliable and customer-oriented. Snappii can create a custom mobile business app in a matter of days thanks to its codeless mobile app development platform. Since it takes less time to create a mobile business app, the development cost with Snappii will be lower than hiring a developer.
You can take a look at some apps that Snappii has created for many industries here. If you think that one of these apps can be adjusted to your business needs, we can customize it. The majority of Snappii apps can be tailored to your needs. Contact Snappii for a free quote here.