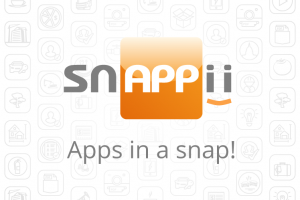 In our today's post we'll talk about a custom mobile app, its benefits for a particular industry and people involved in it. Less than a month ago Snappii, the creators of a Cloud-based development platform, created an App called the Snappii HR App for Human Resources, Recruiters, and Contract Agencies.
The prebuilt Snappii HR App provides a ready-made mobile solution to help centralize employee information. HR professionals and employees can enter, access, control, and take action on the workforce data instantly—from anywhere.  In addition, Snappii Apps are secure, scalable and integrate with your back-end business systems.
Automatically keep track of the employee work in real time with Snappii HR App customizable features such as:
Mobile Timesheets
Eliminate paper and reduce errors with mobile timesheet entry.  Workers can use the Weekly Timesheets Form to track work times, projects, locations and then email the information for approval.  Timesheet info can also be stored right within the Snappii HR App for personal record keeping.  Records can be edited and deleted as needed.  With Snappii's interface, HR organizations can easily configure these forms to specific business needs, and securely integrate the data real-time with back end systems.  No developers required!
Mobile Travel & Expense Reporting
Track out-of-pocket, cash and company credit card expenses for reimbursement with the Report Travel Expenses form.  Users can add, amend or delete expenses and the Snappii HR App will calculate totals for reimbursement.   This form can be emailed for approval and stored on iOS and Android devices for personal records.   With Snappii's online interface, organizations can configure the form to collect photos of receipts, handwritten signatures, and GPS locations.  All of the data can be integrated with your business and payroll systems for immediate processing.
PTO, Vacation and Requests
Use the App to send private Paid-Time-Off and vacation requests to supervisors for a review. Forms can be reviewed by a supervisor and approved/disapproved.  The supervisor's decision and comments will be immediately visible to the employee. Each employee sees only those reviewed requests to which they are assigned.   Business Managers can use Snappii's customization capabilities to add additional workflow and integrate with back end scheduling systems.
Employee Incident Report Form
Replace paper forms with mobile incident reporting and tracking.  Report incidents both on premise and in the field.  This form is especially useful for Field Service roles that are accident-prone or where the incidents may happen in remote locations.   Hopefully no one will require this form, but having it in the App is a must-have.  Use Snappii to configure the form to collect data and information for your specific compliance and legal requirements.  You can customize the workflow, add photos, GPS location, and signatures in the incident reporting form.
Mobile Interview Assistance App
The Snappii HR App simplifies the interviewing process. While interviewing an applicant, notes can be made and stored right on a device and help in assorting candidates for vacant jobs.
More Snappii HR App Features
The "HR App" is also equipped with Chat where users can share their experience and ask questions on the topic.
Salary and Turnover calculators will help quickly count weekly/monthly and annual pays and figure out the true cost of hiring a person accordingly.
RSS feed with latest HR World news is also on board. Add your own news feeds too!
The Snappii HR App is an excellent tool for multiple HR tasks.
Need a different set of features?  The Snappii development platform enables anyone to build a custom mobile app using a toolset and WYSIWYG editor.   Use the prebuilt App to get started and then take control and make it your own.
Learn more about Snappii's App prototyping, App builder and App management solutions.