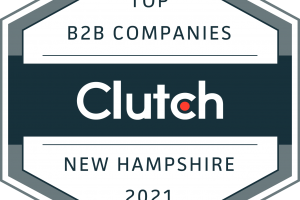 From the time that we wake up to the last minutes before going to bed, most of us are probably using a mobile app. Whether it is social media, games, or something else, these apps have taken a significant part in our lives. Snappii understands this need for incredible mobile solutions that's why we are here to help you with your mobile development needs. 
Today, we are sowing the seeds of our hard work and determination as we share a very special award with every one of you. Without further ado, we are very excited to announce that we have been recently named as a leading mobile app development company in New Hampshire. In a recent report by Clutch, it is stated that our company was able to deliver stellar results and incredible services to our clients.
To formally accept this award, here is our Founder and President Alex Bakman:
"We are very excited to be recognized as one of Clutch's top firms in New Hampshire! Being dedicated to our customers and providing the best support is what our clients value us most. We have been in the app development business for over 11 years and have helped thousands of people to be successful and productive at what they do." 
Just in case this is your first time hearing about Clutch, they are a leading resource for information and knowledge in the B2B industry. They are the go-to resource for buyers looking for the best company to hire and for businesses seeking qualified leads and new projects.
Mobile app development shouldn't be so hard! Contact us today and let us help you make your ideas into reality.