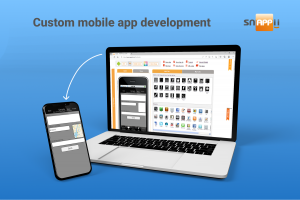 The majority of businesses understand the necessity of mobile business apps. Mobile apps for business help speed up communication between the teams, significantly reduce paperwork, improve daily operations, speed up invoicing, estimates, inspections, etc. A mobile app developer charges you tens of thousands of dollars and delivers the app from 6 months. That's too long. Your competition is already likely using a mobile app for their business, so there is no time to wait.
You can turn your eyes towards codeless mobile app development platforms. Codeless mobile application development platforms are gaining a mounting presence in the app development market. And the number of such platforms is increasing rapidly. Custom mobile app development is no longer a costly privilege. With codeless mobile app development platforms, the cost of app development is dropping because of the time spent and the resources.
So what's a codeless mobile app development platform?
Usually, it is a website with a visual drag and drop editor. The users can select a ready-made template for their interest, then select the colors and overall look and feel of the app and fill it with their content. Along with the customizable templates, these platforms allow users to create apps from scratch using a blank canvas. The codeless app development platform offers various tabs and buttons for every business need.
The process looks like this. The user visually creates a mobile app. The app can be live-previewed on a mobile device. The Platform uses a native preview app that is installed on a user's device. Once the changes to the app are made, the preview app is catching the latest updates. As soon as the user is pleased with the result, the app can be submitted to Apple and Google Stores, or published as a private app and shared with the company employees.
The ability for individual users to create their own apps to support their personalized workflow will also drive greater productivity. Apps built on codeless platforms will not require users to worry about changes made to smartphones and tablets.  The codeless platform should automatically take care of the needed changes.
Snappii created its codeless mobile app development platform almost twelve years ago. During this time, it has been constantly enhanced with more complex features. Snappii platform is used over half a million people and this number keeps growing. Let's schedule a quick demo to show you all the platform capabilities. Don't want to DIY? Our team of professional app builders will create a mobile app for you in a matter of days. Send us your requirements here.