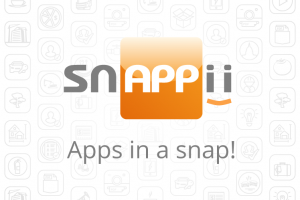 Using Snappii's ultrafast app development platform, the company delivers cross platform, fully functional mobile business apps in just a few days to a few weeks and at a fraction of cost of hiring mobile app developers.
Every company now understands that it needs a mobile app.  Even small companies want one. Therefore, custom mobile business apps need to be affordable. Having a mobile app for your business can be compared to having a website. Mobile devices are more popular now than PCs, and are more frequently used. They can increase customer engagement, help to promote specific products and services, provide better customer service and more. But how can a business app be created quickly and affordably for businesses of any size?
Most people today think they need to hire mobile app developers which usually costs at least $5,000 even if the app is outsourced to an offshore company. If you hire a developer in the USA it can cost $20K and even go into six digits. Additionally, it takes at least a few months to create even a simple app.
Snappii announces a revolutionary new alternative for businesses to get the custom mobile business apps they need at a fraction of what it costs to hire developers and the app gets built in just a few days to a few weeks max!
How can Snappii do this?  The secret sauce is the ultrafast Snappii Visual app development platform.  Using Snappii mobile mobile business apps are built visually with a drag, drop and configure method.
It has many advantages in comparison with hiring developers to write code.
– First of all, there is the speed of the development. Apps are built 30X faster than writing code and hiring an app developer, which usually takes months of continuous work to create a mobile app. Making mobile business apps with Snappii takes a few days, and in the case of a complex app, only a few weeks.
– There is no code to write at all.
– Since it takes significantly less time to build mobile business apps with Snappii, the cost is also far less than hiring developers.
– Snappii offers total control over the user interface. The app creator can add buttons, images, text, and lay out all of the screen elements in a way that makes sense for users.
What's the catch you say? There's no catch at all. Snappii's ultrafast app creation platform has been refined and proven over the past 4 years.  We have built thousands of mobile business apps for clients which are now live in the app stores. Snappii itself built and sells 30+ business specific mobile business apps that are available in the Apple and Google app stores.
Snappii offers many powerful built-in features and can be used to create virtually any business app:
– Data collection and reporting mobile business apps
– mCommerce mobile business apps
– Inspection mobile business apps
– Apps containing calculations
– Sales Catalogue mobile business apps
– Apps with maps and locations
– Business travel mobile business apps
– Mobile forms and documents
– Works assigning mobile business apps
– Photo-taking and sharing mobile business apps
At Snappii, we understand how busy business people are and offer our full professional services to make it fast, easy and affordable to get business mobile business apps. Let us build an app for you! Snappii full service covers the whole process starting from app idea to app submission. You will finally have a native professional app with %100 custom UI and design meeting all your requirements and available both in the Apple app store and Google Play store.
The platform automatically generates iOS code in Objective-C and Android code in Java.  Mobile mobile business apps made with Snappii use the native programming languages and look exactly like the ones made by a Mobile Developer.
Please visit Snappii to learn more about the Snappii Mobility Platform, our products, and services.
About Snappii:
Snappii offers a wide range of industry-specific Mobile Apps along with the industry's most powerful Mobile App Platform on the market today. The Snappii Mobility Platform offers a unique approach to the rapid creation, deployment, and management of custom mobile mobile business apps. It enables both non-programmers and programmers alike to create sophisticated, feature-rich mobile mobile business apps once and then deploy them across all major mobile platforms including iOS, Android, and Web Apps without having to write a single line of code. These mobile business apps can be easily and securely integrated with existing back-end systems. Snappii enables this rapid development of mobile mobile business apps with the unique visual editor contained within the platform. The editor provides the ability to drag, drop, and configure virtually any functionality required for any mobile app. The platform also has built-in capabilities to facilitate the deployment and management of the mobile business apps all from a single platform. It is this unique capability that allows business people to move from app concept to deployment of mobile business apps in weeks or even days.